Pembrokeshire councillor announces he won't be seeking re-election in May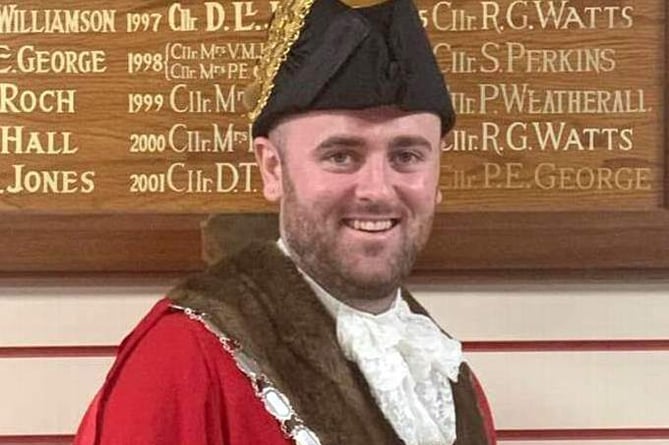 Subscribe newsletter
Subscribe to our email and get updates right in your inbox.
Pembrokeshire county councillor Josh Beynon has announced that he won't be seeking re-election this May.
Last month, Clr. Beynon became Pembroke Dock town council's youngest ever Mayor, when he was officially sworn in after taking the role on an interim basis.
But now, in a post on his Facebook page this morning (Saturday), the county councillor for the Llanion ward, has stated that he won't be standing as either a county or town councillor at the local elections later this year.
In his post, Clr. Beynon has stated that he has realised that he needs 'some time away from the public eye' to pursue new 'adventures'. He also references the 'modern day abuse and harassment' in politics, which he calls a 'scourge on modern society', stating: "I am sick to death of keyboard warriors writing abuse to someone because they disagree politically, look different, aged different or love someone different".
"When I first stood in 2017 for County Council elections, I was naive at 19 in the fact that I could change everyones mind in believing that not every politician is the same," wrote Clr. Beynon.
"Despite realising you can't please everyone all of the time, you can please some people some of the time and I am grateful to my constituents who saw that I had a real desire to represent and improve Pembroke Dock and Pembrokeshire.
"Over the past four and a half years, I have got out of bed every day with the interest of improving Pembrokeshire both now and for those that will come to live, work and be born here in the future and my drive has always been to make Pembrokeshire a more equal place for us all.
"When I first decided to put myself up for election, I told those closest to me long before election day that I would only stand for one term. One term because I wanted to do what was right, even if unpopular, not what was in the best interests of my political career.
"There have been times where I have been torn in wanting to stand again, purely from the point of view that five years is not enough to change a huge machine like the council, but this job is a job where there will always be something to do and something to change.
"I think there comes a time in everyones life where they realise what they want to pursue next and for me I have realised that I need some time away from the public eye to pursue new adventures and for this reason I am announcing I will not be seeking re-election to both Pembrokeshire County Council and Pembroke Dock Town Council in May 2022," he continued.
"Modern day abuse and harassment in politics is a scourge on modern society and I am sick to death of keyboard warriors writing abuse to someone because they disagree politically, look different, aged different or love someone different.
"Their actions have shown the very worst of people who will stop at nothing to wear people down. I consider myself to have a thick skin but even at times they have got to me. That isn't political disagreement, that is harassment, abuse and hatred. However, if someone said to me 'should I stand for election despite all that' I'd always respond with a yes.
"Letting these idiots win is a no go zone for me and their hatred and worst of humanity showed me the best. I am so thankful for those who checked in on me, supported me and realised when hate was hate. Your speaking out and support meant more to me than you will ever know. For that, I will always be grateful."
Clr. Beynon went onto say that the past few years have seen a a lot of changes at Pembrokeshire County Council, and whilst he may have disagreed at times with some policies, he believes that the council is in a lot better shape than it was back in 2017.
"County wide, I have been proud to be involved in mental health work in schools, proud to be involved in the sustainability and environmental agenda in leading the councils new waste service review and climate change group and lastly, I have been proud to stand up for the rights of all here in Pembrokeshire," he remarked.
"As you may be aware, this came with a vile torment of racist and homophobic abuse and whilst it was not pleasant, I would do the same thing again in standing with all of our communities no matter what. If my actions as an openly gay man gave just one person the confidence to be themselves after seeing me locally in public office, that's a win in my books.
"On a local level, I have been proud to have worked on improving active travel in Pembroke Dock, working with the VC Gallery to establish the Pembroke Dock hub to help veterans, working with Pembroke Dock Town Team to run the beer festival, bungee off the bridge and soapbox derby and lastly leading on the project to improve the Pembroke Dock Memorial Park with fellow trustees. Even though I am standing down, I still have every intention to be as involved in my community.
"I feel extremely honoured and privileged to have served in this role for the time that I have, I have met some incredible people all across Pembrokeshire who work so tirelessly for their communities, they are ordinary people who do extraordinary things whether they are council officers, health board staff, from the third sector or community volunteers.
"I will continue to serve and do my best until my term finishes in May 2022 but I sincerely hope that anyone out there reading this decides that they can do this job.
"It doesn't matter who you are, your creed, sexuality, race or anything for that matter, we need a council that is more diverse than the one we currently have with 53 men and seven women," he added.
Comments
To leave a comment you need to create an account. |
All comments 0