Powells Cottage Holidays to host public networking event
SPONSORED STORY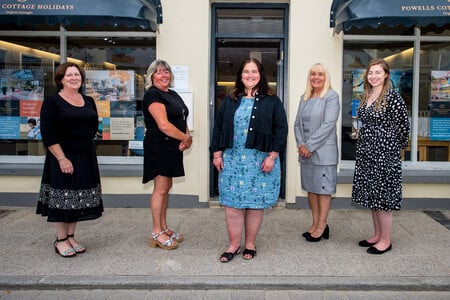 (Aled Llywelyn/Huw Evans Agency )
Powells Cottage Holidays hosts public networking event for those looking to enter the holiday letting market in 2022
On Friday, May 6, Powells Holiday Cottages, part of the Original Cottages family will host its first networking event at the Giltar Hotel in Tenby providing guidance and advice for those looking to purchase or let their second home in the Pembrokeshire area.
Office team members, recruiters, account managers and property managers will gather onsite from 11am-3pm alongside leading industry experts from financial and insurance partners to discuss what being part of the Original Cottages portfolio can do for those interested in the property and holiday letting market.
Established in Saundersfoot almost 60 years ago in 1963, Powells Holiday Cottages is proud of its local presence in the heart of the town. As well as supporting the local high street, the opening of its office in July 2021 generated several investment prospects for the community and it is hoped that this networking event will continue to raise awareness of these opportunities in the local area.
2021 saw the coastal holiday company record its most successful year to date securing over 20,000 bookings, covering over 20,000 weeks. With figures showing that domestic holidays are set to prevail again this year, the team, led by regional manager Gareth Mahoney, plans to increase its property portfolio, strengthen brand awareness in Wales, enhance community engagement and support, increase its team and become a more eco-friendly company.
With almost 1,300 properties spread across Wales, sleeping between 1 and 32 people, this event looks to bolster the growth of family-owned Original Cottages, which includes Wales Cottage Holidays, even further.
Over the last 12 months, the Original Cottages business, which has five offices in Wales, took on an additional 274 new properties and recruited 11 staff, 4 of whom were recruited into brand new roles. The team also welcomed 4 new starters in February with another 7 positions to be recruited throughout 2022.
Reflecting on the company's success, Gareth Mahoney, highlighted "We are incredibly proud of our achievements to date and have continued to demonstrate a high level of quality through our properties and customer service, together with our national expertise and local knowledge which is what makes Original Cottages so unique. We hope this event enhances our property offering in Wales, but also encourages the community to take a leap of faith in entering the letting market. Original Cottages continues to enhance tourism within local communities by promoting Wales' incredible offering, helping everyone to create and find the perfect holiday cottage for them."
Laura Kerslake, Brand Manager for Wales, Original Cottages said; "We've been part of the Saundersfoot community for over half a century, and we are delighted to host this event which it is hoped will provide an open forum for the community to explore potential investments and to seek advice for holiday letting."
As part of the Original Cottages family, Powells Holiday Cottages is operated by locals, who live and breathe their local communities. This not only makes them experts in the region, but it also means they truly understand the importance of supporting their local community and offering opportunities in the areas they operate.
For more information about Original Cottages visit, www.OriginalCottages.co.uk, and if you are interested in staying in a property with Original Cottages, please visit the website or call 03332 020 899.
Comments
To leave a comment you need to create an account. |
All comments 0