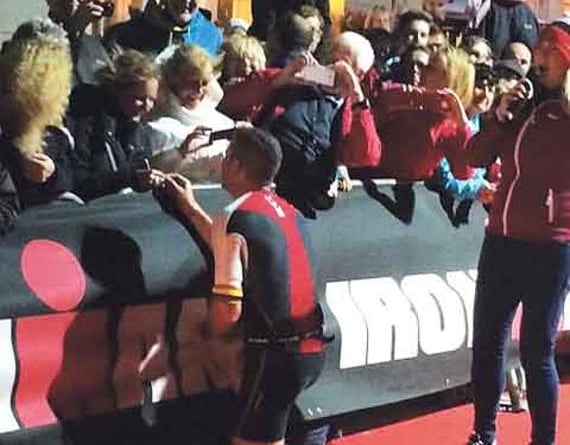 Subscribe newsletter
Subscribe to our email and get updates right in your inbox.
Everyone loves a romantic story and Ironman Wales may seem an unlikely setting. But not for competitor Jeremy Forshew. He marked running down the red carpet in his first Ironman event by proposing to girlfriend Louise Turner.
Jeremy, who lives with Louise Turner in Surrey, said he had heard so many amazing stories about IM Wales and how welcoming everyone was, it was an easy decision which event to enter.
Richard told us: "I did the swim and bike at the LCW this year, so was pretty confident I could get round the course... just no idea in what time! I found the swim tough going, but finished in 1:34, which was almost 15 minutes faster than LCW, so was really pleased with that, given I'm a pretty average swimmer.
"The bike course was fantastic (weirdly, I quite like hills!) and I finished that in 7:09, which is what I thought I'd do. The support around the course and from the volunteers was incredible!
"Then the wheels came off a bit on the run, which was over an hour slower than I expected in 4:40. The crowds around Tenby were phenomenal though... never experienced anything like that (and I've run a lot of big races). So with my transition times (plus a little 'proposal time' in the finish chute!), I finished in 14:09, which I was pleased with, given how tough the course is."
Jeremy picked up the engagement ring from his dad on the third lap of the run.
"I think I'd have been way too scared of losing it if I carried it the whole way, but I wanted it to have come some of the distance to the finish with me!" he said. "Both sets of parents were along the finish chute which was great. But most of all I'll never forget the look on Lou's face when I knelt down... she had no idea I was going to propose! And the reaction from the crowd was amazing!
"I told Lou that I'd had moments in the water and on the bike and the run when I doubted whether I could finish the race, but the one thing that kept me going was knowing she would be there in the finish chute and I was going to ask her to marry me. Honestly, it really did keep me going a few times!"
So why did Richard choose to propose as he did?
His answer: "I chose to propose then for a couple of reasons - firstly having both our families there which, if I was going to propose in public, was important, and secondly (and mostly) because of all the support Lou's given me over the last few months of training when I've been spending all my weekday spare time and most of the weekends swimming, riding and running (well not that much swimming tbh!). I really couldn't have got round without that and I wanted to make IM Wales part of me showing her how I feel about her."
Of course she said 'yes', so it was a happy ending to a memorable day for the Forshew and Turner families!
Comments
To leave a comment you need to create an account. |
All comments 0