'Professional negligence' claims launched in wake of the collapse of Northern Powerhouse Developments scheme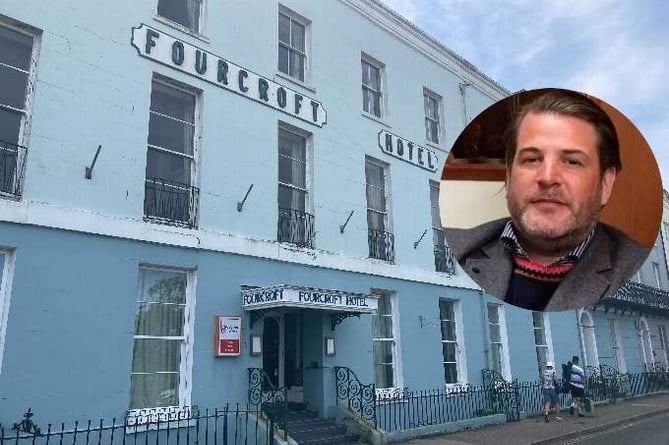 Tenby's Grade II-listed 40-bedroomed seafront Fourcroft Hotel situated along The Croft overlooking the North Beach and Carmarthen Bay, was one of several properties acquired by Mr. Woodhouse's Northern Powerhouse Developments company in 2017
Subscribe newsletter
Subscribe to our email and get updates right in your inbox.
The fall-out from the dealings of an 'entrepreneur' who took over one of Tenby's most iconic seafront hotels, only to see the premises go into administration continues, as solicitors acting on behalf of investors launch 'professional negligence' claims.
Suspected fraudulent business dealings by Gavin Woodhouse, who raised more than £80m to refurbish hotels and build care homes, were first revealed by an undercover investigation by the Guardian and ITV News back in 2019.
Tenby's Grade II-listed 40-bedroomed seafront Fourcroft Hotel situated along The Croft overlooking the North Beach and Carmarthen Bay, was one of several properties acquired by Mr. Woodhouse's Northern Powerhouse Developments company in 2017, after it was purchased from the family that had owned the Georgian-era premises for over 70 years.
However, the hotel went into administration back in August 2019 following a high court hearing where the hotel company's boss was removed.
Mr. Woodhouse lost control of three of his companies after a high court judge ruled that his business model appeared to be "thoroughly dishonest" after publication of the undercover investigation which posed questions about the business interests of Mr. Woodhouse, who raised more than £80m from private investors, but whose firms had a multimillion-pound "black hole".
Subsequently, an investigation was launched against Mr. Woodhouse by the Serious Fraud Office (SFO) in the summer of 2021.
Specters Solicitors, a law firm specialised in professional negligence, have now sent a letter of claim to Metis Law LLP, one of the conveyancing solicitors acting on behalf of investors on the collective investment schemes, after the collapse of Northern Powerhouse Developments scheme.
The letter alleges that Metis Law LLP failed to sufficiently warn investors about such high-risk and unlawful collective investment schemes. Metis Law LLP also allegedly failed to warn investors about excessive deposits and the clauses in transactions providing that investors' deposits to be held as agents instead of stakeholder.
This gave the developer access to the investors' money pending completion.
Specters Solicitors are representing approximately 70 clients in potential professional negligence group actions against their former conveyancing solicitors, including Gaddes Noble, TQ Property Lawyers and Williams & Co, for acting on such schemes, specifically warned against by the Solicitors Regulation Authority.
Their clients lost an average of £60,000 in capital and a total of about £4 million paid towards the developments, which were advertised as multifaceted units, such as care homes and hotels, when the developer went into administration.
The SFO said that it was investigating "suspected fraud and money laundering" relating to Mr. Woodhouse, as well as associated individuals and firms.
The SFO's acceptance of the case supports the suspected dubious and high-risk nature of the schemes.
Ken Specter, Managing Director of Specters Solicitors, said: "We welcome Serious Fraud Office's investigation on Gavin Woodhouse.
"We will send letters of claim to other conveyancing solicitors acting on behalf of other investors."
He added: "We encourage any investors involved to come forward and join our potential claims. Investors could claim their capitals invested plus any interest incurred to date."
One person who was left stung by the collapse of Mr. Woodhouse's scheme, had invested a total of £100,000 in two hotel rooms of the Afan Valley Project in 2018. He had instructed his solicitors for this transaction.
He confirmed that the purchase price of each room was £100,000; and paid £50,000 for each room as deposit, with the developer promising him that they would pay £5,000 per year for each room over a 10-year period.
"I've chased both buyer and seller solicitors for my money for the last two years. They have never replied to me," he stated.
"Specters Solicitors managed to get back part of the investment from the seller's solicitors.
"I am furious as I feel like I was scammed by the solicitors and developer. This has seriously impacted my retirement plan as I have lost most of my retirement fund and an income source."
It is estimated that more than 1,000 people have invested around £80 million in schemes and companies associated with Mr. Woodhouse.
Derrick Towlson who invested in the Fourcroft Hotel, told BBC Wales back in 2019, that he and his wife had spent their lifesavings on a hotel room at the premises.
The couple were told their £75,000 investment would help fund the renovation of the hotel, and that it would earn a 10 per cent return on their investment plus two weeks' free use of the room per year; and after 10 years, the company pledged to buy back the room at a 25 per cent profit.
But after two years the couple had seen no payments and were left angry when administrators were called into the business in 2019.
"I retired early but it looks like I might have to go back to work now," stated Mr. Towlson at the time.
"You feel stupid one minute, angry…when you look back now I think it's pure madness really, but it was so convincing," he added.
At the time of the purchase in January 2017, Mr. Woodhouse outlined his plans for expansion to complement his company's existing hotels up and down the coastline of the UK, stating that the Fourcroft Hotel would be the sister hotel to the Llandudno Bay Hotel and Spa and part of the group's premier 'whisper hotels' collection.
Plans to purchase the neighbouring Croft House Apartments which forms part of the Georgian terrace in Tenby, constructed in 1830, were also in the pipeline.
Comments
To leave a comment you need to create an account. |
All comments 0