Trefloyne Manor Seniors say 'thank you' with 75th anniversary D-Day event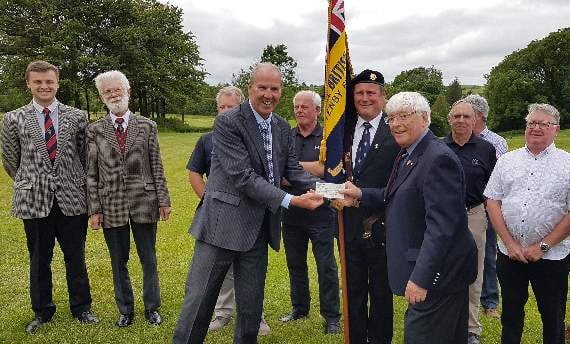 John Voysey, club vice-captain presenting a cheque to Mr. Chris Morris, chair of the Tenby Branch of the Royal British Legion, in front of Tenby standard bearer Craig Folder and members of the Tenby branch and members of Trefloyne Seniors' Section.
Subscribe newsletter
Subscribe to our email and get updates right in your inbox.
The Trefloyne Golf Club Seniors' Section normally play their matches on Thursdays, but the June 6 event was dedicated this year to a rather special event.
In conjunction with our friends at the Royal British Legion, and particularly the Tenby branch, we held an event to help not only raise funds for the wonderful work the Legion does as a charity, but also to remember all those who gave on this day 75 years earlier on the beaches of the Normandy landings.
In all, 32 members took part in the event, which was arranged by our former captain Mike Allen, who himself served in the armed forces and had good reason to remember his family's connections with the events in France 75 years ago.
His original idea was that we should play a medal event with an entry fee, and everyone who scored more than the standard scratch of 72 (nett) should contribute £1 per shot, which initially seemed a good idea, until I realised that with my current form I would need a mortgage to pay my dues, so a more subtle way of donating was contrived which worked really well.
With two categories, 0 to 15 and 16 to 28 for men, and 0 to 36 for the ladies, we had 32 players participate and between them they raised £250 for the charity.
In the 0 to 15 category, Alun Williams with 34 was third, followed by Glenn Hunter on 36 points, and our winner was Mike Allen, fittingly, with 37 points.
In the 16 to 28 men's group Jack Zeraschi came third with 31, Wayne Connett was runner up with 34, Trevor Lewis our winner with 36 points, and in the ladies' section, Jane Meyrick was first with 31 points. However, this was not about winning, it was about supporting this very worthwhile charity and, as Graham Phillips, the Tenby secretary said, this sum of money was very significant to the local branch.
The following Thursday saw the Trefloyne Seniors' Section playing the home leg of the local derby against Tenby Golf Club Seniors' Section, a game which always has a little more of a competitive edge. With local bragging rights at stake, the Trefloyne team were out to see if their good run of form this season would continue, and they were not disappointed.
The captains' match saw John Voysey and Brinley Hughes take on Idwal the stand-in Tenby captain, as current captain Derek Cole had another pressing engagement and was unable to play. After a tight game, the home pair nudged in front on the 14th and won 15 and 16 to win the game 3 and 2.
Mike Allen with Meurig Evans played an exceptionally tight game, winning eventually by one hole, and were followed by Derek Jones and Dennis Holloway who managed to overcome their opposition 4 and 2.
The pair of the moment, Alun Williams and Pat Casement, were the only home side losers, going down 4 and 3, which happened despite Alun having a two on the 12th and winning the daily prize pot, which I suppose was some consolation.
Wins for Dave Allen and John Hammond by 3 and 2, Trevor Lewis and Rob Nixon by 4 and 2 and Graham Harrison and Colin Rowe by 3 and 2 sealed the win for the Trefloyne team, and with Glyn Latcham and Wayne Connett delivering a halved game, the result of 6.5 to 1.5 gives us a good starting point for the away match in September, which we really look forward to.
Talking about Tenby games, our Dyfed League team are drawn to play Tenby in the Dyfed League 'Jeff Harris Bowl' competition and the match has been arranged for 11 am on Sunday, July 7, at Trefloyne, which just happens to be the same weekend as the Long Course event. Let's hope everyone gets to the game in time and both teams have a great day.
Finally, the Senior members Classic Cup third round match sees Trefloyne A away to Newport Sands in the coming week, so our best wishes go to them, with details from the game being published next week.
Weather forecasters are suggesting that brighter weather is on the way, so to golfers everywhere I say it's not how you play, or even where you play, it's the fact that you are playing which really matters, so if anyone wondered what could be on offer at Trefloyne Golf Club, simply check it out on www.trefloyne.com or call our pro shop on 01834 845639,where a warm welcome awaits.
Comments
To leave a comment you need to create an account. |
All comments 0