Trefloyne Golf Club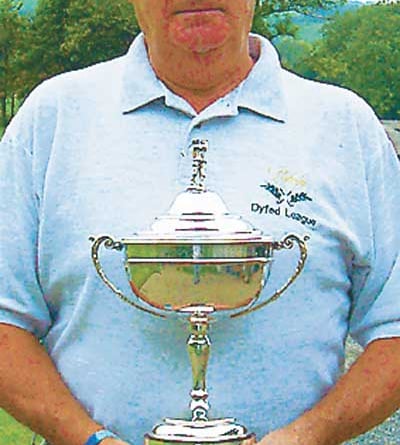 Graham Harrison with the Past Seniors Captains Trophy.
Subscribe newsletter
Subscribe to our email and get updates right in your inbox.
A new year, new targets and new challenges for our Titans to face! Great to see you all back again at the first session, dusting off those clubs after the holidays!
First up was our green group. A game of knock the chair was a very enjoyable one! Owen managed to land the ball on one and got it to stay sat there! Very impressive and he also won golfer of the week after his great performance! Jed came within millimetres of hitting the chair on his final shot, just missing out on the win and golfer of the week! Tense ending to that session!
Our red group faced the same challenge and there were some very good shots from this group! Winning golfer of the week for this group was Charlie Day! Constantly getting better and better!
Look forward to seeing you all next week!
It's not too late to join our Academy here at Trefloyne. Feel free to contact us on [email protected]
SOUTH WALES SENIORS CLASSIC
Hi team, it's that time again when we have the chance to enter the South Wales Seniors Classic knockout cup.
We have provisionally entered two teams for the 2019 event, so now is the time to let us know if you would be interested in playing please.
The handicap limit is 18, but players of a greater handicap can play, but must play off 18.
The entry fee is £5 per team players for the first two matches, any further games are free. Two reserves also travel and play the courses if we are drawn away for free.
As with last year, once we know who would like to play, we can decide which team has which player.
Each team can have up to 12 players nominated, who can only play for their nominated team. The knockout itself has two rounds, so for teams losing in the first game, their second match will be in the Bowl.
Trefloyne Eclectic and winter league half time updates.
For those who have not been able to see the seniors board, the updates from the Seniors Winter League and Eclectic are below.
It's half-time, with three months to go and all to play for. There are some good scores in, but nothing is yet won and the fat lady isn't singing. Just a couple of good rounds will really change the scoreboard.
As a guide, in previous years, the winner of the winter league has averaged 36 per month, so a score of 108 at halfway is on target. However, you would expect to get better scores in February and March, so anything over 90 at this stage is a great effort.
The leaders of the winter league so far are: Ist place equal with 106 points Alun Williams and Mike Allen; 3rd place with 103 points Bob Forrest; 4th place equal with 101 points Dave Allen and John Voysey; 6th place with 100 Pat Casement; 7th place with 99 points Dave Crowley.
And the eclectic league results so far: 1st place equal with a nett 60 Dennis Holloway and John Voysey (the good guys); 3rd place with 61 Brinley Hughes; 4th place with nett 62 Dave Crowley (always comes good at the end Dave worth a bet now); 5th place equal with nett 63 Dave Allen and Gareth Roberts; 7th place with a nett 64 Bob Forrest.
Steve Jones, Brian Miller, Jack Zeraschi and Alun Williams are all breathing down their necks on 65, so the game is well and truly on guys.
Big thanks to Jack who has done all the collection and number crunching work, and good luck to everyone still competing.
You have five more Eclectic days left to improve your score, and 11 more winter league Thursdays to put a good score on the board, as our competitive season this year starts in April and not March as usual.
Introducing The Trefloyne Team - First Up Head Greenkeeper James Morgans
It is said by golfing gurus that members make the club, but greenkeepers make the course, that essential relationship that all good clubs need to make the club special.
For the coming three weeks Trefloyne Manor Golf Club would like to introduce the very men who will strive to make the course, and by default the club, somewhere you can come and play a round of golf and know that the fairways, greens and all other aspects of the course are being lovingly maintained and developed by a greens team led by our head greenkeeper James Morgans.
You may ask what drives a young person to want to make a career out of something as individual as being a greenkeeper at a golf club, particularly as James is not a golfer himself, and in a career where almost every member will have a different idea about what you should be doing. In his case, James always felt that the outdoor life and working in horticulture was the role he could see himself entering on leaving fulltime education, and we have his brother to thank for steering James away from that line and into the life as a greenkeeper at a golf club.
He began his golfing apprenticeship at the Coed-Y-Mwstwr Golf Club, a parkland course on the outskirts of Bridgend. With a large catchment area, Coed-Y-Mwstwr is only some 20 miles from both Cardiff and Swansea, so is a popular and busy club and a great place to complete an apprenticeship in how a golf course is maintained and run.
James spent some four years at this club qualifying in his new-found profession before venturing oversees to Herford Golf Club, near Hanover, Germany. James spent a further three years in Germany, which gave him a broader view of the golfing world and helped broaden his experiences, essential for a budding head greenkeeper.
Moving from Hanover back to Wales, he then worked at the world-famous Celtic Manor Resort, with its three top courses. By now as a senior keeper, the challenge of keeping such a vast and incredibly busy resort up to top drawer quality all year around was another feather in his cap.
His final stop before joining Trefloyne was at the highly regarded Southerndown Golf Club, which is a heathland links golf course standing in grounds of an elevated position above the Merthyr Mawr sand dunes and the Ogmore river. At 6417 yards, this fantastic course regularly hosts major events, including the Welsh amateur championship, and has held events such as the Martini international and Piccadilly medal.
A quick glance at Trip Advisor shows a raft of comments about Southerndown, nearly all rating the club as five stars, so another string to the bow for James who moved from the volume and pressure of the Celtic Manor resort to one of the most highly rated courses in Wales and improved his knowledge and skill base accordingly.
When Trefloyne Golf Club advertised for a new head greenkeeper, James took the plunge and on getting the role moved down to Tenby, where he has settled into the role since his arrival just under a year ago. You only know a course once you have been there for at least a year and seen all the changes a parkland style course undergoes during that time, so with his eyes on making the greens as special as they can be, doing some design work around the bunkers, and getting the fairways sculptured and looking immaculate, he will have his hands full in 2019 and beyond.
Like James, Trefloyne Golf Club is here for the long term, and in his hands and with all his experience, the membership can expect Trefloyne to be better than ever in the coming years.
Anyone wishing to find out more about what Trefloyne Golf Club has to offer can do so by visiting the website at www.trefloyne.com/golf or by contacting the Pro shop on 01834 845639. Why not ask about current special offers, as you will always be assured of a warm welcome at Trefloyne.
Comments
To leave a comment you need to create an account. |
All comments 0