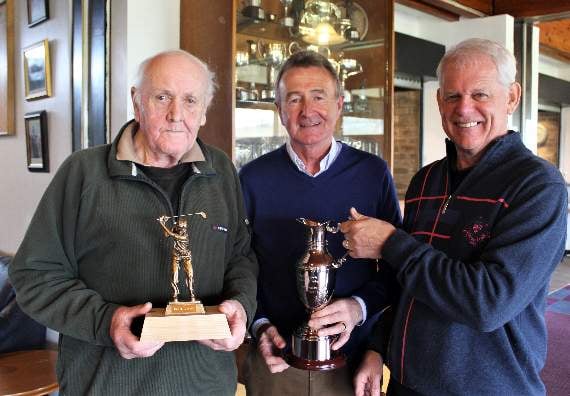 Derek Cole with today's winners – Ron Murphy (the Alan Yates trophy) and Austin Davies (the John Cook Memorial trophy).
Subscribe newsletter
Subscribe to our email and get updates right in your inbox.
The John Cook Memorial Trophy, a magnificent Claret Jug, was the reward for the highest stableford score on this mild and even sunny Tuesday. The competition was open to all club members over the age of 55. They came in their droves - well, there was a complement of 42 who took to the links with the aim of earning the right to display this trophy on their mantelpiece for the next 12 months. Only one succeeded.
Two had dropped out, but two replaced them to keep the numbers up. Unfortunately, one member was unable to complete the course. He retired after 14 holes, still nursing the achilles problem sustained a couple of weeks ago.
This year's event was the second inaugural competition for this trophy. The first two competitions had been organised and played as medal competitions. This year it was arranged as a stableford competition, which was more in keeping with John's approach to seniors' golf. A number of seniors even tried John's practice of putting from anywhere on the fairway - but without his success.
There were quite a few seniors who bemoaned the fact that they were unable to achieve much success with their putter. Roger Barton's score was kept below 40 this week, mainly due to the fact that he missed or fell short on many putts. Jim Moffatt also declared that while he played well, he too failed to maintain his usual putting prowess. Allen Watts and Chris Beecher watched in amazement as a few of their putts grazed the hole but refused entry on the first attempt.
Bill Davies had two birdies in his round of 33 so some of his attempts with the putter must have paid off. So much so, he decided to celebrate with a 'CUP OF TEA.' David Lamb, on the other hand, fresh from his outing to Cheltenham last week, may ask for his club fees back. He doesn't think, on this week's performance, that the quality of his golf is giving him value for money.
Of the 41 who completed the course over half scored 30 or more points. Just missing out on that number were Dudley Willams, Charles McFee and John Stevenson all on twenty-eight.
This week the prize money stretched to the top five scorers. Just missing out, with a score of 35 points each, were Jim Moffatt and Adrian Palmer. That meant that Chris Beecher picked up a small reward for his 36 points. Taking fourth place on 38 points was Meirion Griffiths with same score as Roger Barton who had second. Runner-up, all on his own, with 39 points was Bob Forrest.
This year's winner and the holder of the John Cook Memorial Trophy was Austin Davies, the only player to reach the grand score of 40 points.
Also receiving remuneration for their excellence, or is that luck, in scoring a two were Ron murphy on the 12th and Roger Scholfield on the 17th.
Along with the John Cook competition, there was another competition taking place out on the course for five exclusive members. They may not have known it, but the Alan Yates trophy was up for grabs. This was competed by senior members over the age of 80, of which only five members played today. The first senior to have his name engraved on this new trophy was Ron Murphy who returned a score of 33.
The captain congratulated all who took part, especially the winners. He did, however, express his disappointment at some of the slow play which was demonstrated by the gap of two or three holes between some groups indicating that this takes the edge off the enjoyment for some.
To complete the day, three members were fortunate in having their names selected in the bag draw. The lucky trio were Meirion Griffiths, Ross James and Dudley Williams.
Next week sees the start of the Summer matches when 18 members from Glynhir will join us on the links.
On a wonderful Welsh weekend, a dozen and a half golfers (including one guest) were in the line-up to pay their entry fee to the temporary money man Mark in readiness for the 20th contest of the Rabbits Winter League, writes Warren Hacker, our links reporter (and maybe the second most famous Warren in Wales at the moment). There were a couple of interesting 'head-to-head' contests and they were all wanting to try to record the best score of the-maul.
The shorts wearer announced the draw with the current league top two - leader Grant W and Keith D - out first, alongside recent Seniors Eclectic winner, Adrian P, and their cards totalled 89 points and eight blobs between them, but there was only one top 10 finisher.
The second group contained Will 'Twice' and Rees D (currently third and fourth in the Eclectic points table) with Dave B still trying to break into the upper echelons of any of the tables, and their total points were 102 and blobs were six (one was blob-less) with two good enough to get into the top five.
The third threeball saw Steve C, John B and Ian W next to tee-off and between them their joint blobs came to 10 and points to 86, with two ending up in the top 10, although one ended up bruised after bouncing a ball back into himself off Black Rock!
The fourth group had defending champ Mike W with cardman Phil C and acting treasurer Mark E and between them they hit 100 points and only four blobs (between two), one got onto the ninth green in two early, all three were top tenners and one equalled the best back nine of 20.
The last-but-one group consisted of Robin B, Chris S and 'guest' Ian J, but amongst them they saw no top tenners, managed to blob the most holes between them (15!) and couldn't quite manage an average of a point-and-a-half a hole.
Despite the gathering clouds, the final group - captain Steve W, offspring Tom W and Sally T's husband Peter (he had the correct mobile this week) - clearly had a 'hot' day as they saw only four blobs on their cards and a huge 110 points total, with the final par beating the final bogey to settle the top prizes.
The results were revealed with two-thirds of the players over 30 points and five in their buffer-zones or better. Mark let his putter down and his fifth place 35 points could have been better and playing partners Dave and Rees had matching 37s, but the former pinched third place on the back nine. Peter's five on the 18th was enough to give him two points to end up on 39 and the runner-up spot (to get his money back), but his playing partner Tom managed a par four to give him three points, a total of 40 points and the rest of the prize pot.
Both top two were reduced, but Peter was cut to 22, with four players going up in handicap. Three of the six 'W's playing managed to get birdies on the par threes - well done siblings Grant and Tom (on the sixth), Mike on the 17th and the 'non-W' Steve C, also on the sixth, and they shared the Twos Pot.
Two weeks remain of the Best Eight Winter League and 20 players now have eight or more cards in (Bill B has seven, Gareth D and John P six each) with Grant still clear on 307 (crown him champion now?), Keith second on 298, Steve C on 295 and Phil on 293. The Points Eclectic stay unchanged - Paul on 65, Keith 64, Will Twice and Rees on 63, with the Gross Eclectic showing 11 players in the 60s, Steve C ahead of Rees on back nine (both on 62), with captain Steve third on 63.
If you haven't signed up for the Gwyn Tibbs Trophy next Sunday please do so (six Winter League matches required to be eligible) and please be there early as we may have to get on the tee as soon as we can as we've 'lost' our last tee time. Come on down.
Comments
To leave a comment you need to create an account. |
All comments 0