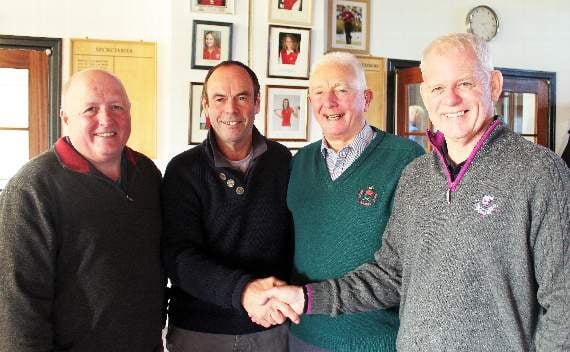 Derek Cole congratulates Mick Whale helped by Phil Carpenter and Geoff Aston.
Subscribe newsletter
Subscribe to our email and get updates right in your inbox.
Seniors Enjoy the 'Craic' in their First Outing of the New Year - The repeated crack of the rifles on the firing range, however, were louder than usual and somewhat startling when they suddenly recommenced firing. It may have startled some, but it proved an incentive for others, jump-starting their efforts to improve scores.
The weather more than made up for the noise as the sun tried, and occasionally succeeded, in its attempts to disperse the light clouds. A slight breeze, which increased as the morning rolled on, was not enough to trouble the 40 hardy seniors who were determined to make the most of a great opportunity to improve eclectic score.
Three of the 40 starters were joining the group from Trefloyne, eager to welcome the challenges of the Tenby Burrows. Bob Forrest relished the challenge in his first outing with Tenby Seniors, while John Voysey and John Richards returned to challenge the course and its members. All were welcomed by Seniors' captain, Derek Cole, when he wished everyone a Happy New Year at the end of their rounds.
John Richards was out with Steve Decosimo and Hywel Probert and it was reported that the putting in this group was running hot and cold. Steve (31pts) was decidedly cold, while John (36pts) was hot.
The day was rounded off in the right 'spirit' as each group arrived in the clubhouse to be offered a tot of whisky from the bottle on the counter. 2019 had kicked off with a hole-in-one on its first eclectic. Meirion Griffiths (36pts) was able to see his ball roll in as he watched it from the temporary tee on the 18th. The smile on his face indicated his pleasure as he was congratulated by each group as they returned.
Tim Poole was welcomed back to the fold with an incentive to come again; he won this week's raffle prize. Only nine seniors failed to reach 30 this week of which four were below 25. Five seniors managed 33 points while four achieved 35 and a further four reached 36 points.
There were some familiar names in the top 10 this week, names which crop up on a regular basis. Idwal David joined Peter Williams on 37 points, while Stan Hudson and Peter Hughes went one better with 38. Enjoying the rarified air along with them was the right honourable David Lamb. Roger Barton and Ross James were just edged out of the top three even though they scored 39.
Also with 39 points, but a better back nine, was a very welcome Geoff Aston who, was edged out by Phil Carpenter, again on 39 points. That just left the top spot. All alone on 40 points this week's winner, for the second time, was Mick Whale.
Bill Davies gets a special mention, alongside John Voysey, for scoring two 2s, Bill on the ninth and 12th and John on the 17th and 18th. Roger Scholfield scored his on the ninth, while Geoff Aston and Robin Hagley had theirs on the 17th. Everyone left the club in good 'hwyl' having enjoyed a good day's golf.
Twenty pairs of Rabbit ears listened attentively as Rabbit captain Steve W read out the groups for the first Winter League contest of the New Year, but, due to an unread text message re. non-attendance, the drawn 7x3ball groups were re-arranged to 4x3 and 2x4s, writes Warren Hacker, our links reporter and part-time mathematician, but would the mixture of '9a' and 'non-9a' cards confuse the players - of course they would!
Captain Steve led off in company with John B and Mike and two would manage a top half finish, but one wouldn't get a two, and they aggregated the best threeball score of 106.
In group two there were the 'Lower Enders' - Bill D, Shaun and Chris - but, try as they might, they couldn't break into the top 10 - one scored as many points with a full set of clubs over 18 holes as he managed with three clubs and a putter over 14 the day before - but there was a two.
Next away were group four (keep up!) consisting of the 'Pasts' - past captain Paul, past week's winner Ian W and league winner in the past century, Steve C - who were officially the sharpest shooters, but had the worst total score (despite two five-pointers).
The final threeball contained freshly-holidayed John P alongside the famous 'E20' boys - the 'Mitchell Brothers', Grant and Phil. The 'Acer' couldn't emulate his achievement from the day before and spawned a couple of chances to share the Twos Pot and the suntanned one was just unable to make it two top 10 finishers for the group.
Next away were Bill B, Keith, Adrian and Gareth, followed by Dave B, Rees, Robin and Tony. The fourball groups obviously had the best of the weather as the breeze dropped early in the afternoon - there was the unusual sight of the 'whirly thing' by the 'Railway' hole tee not moving at all - and threequarters of both groups ended up in the top 10. The three podium placers would come from these two groups, but they wouldn't get their names on the list of two-getters.
When acting treasurer/captain Steve announced the results, he was impressed with the standard of scoring - 30pts only good enough for 18th place and the buffer-zone going down to seventh - and with the CSS at a high 40, the top four placers all got a reduction - Steve C's 41 (net 66) only enough to put him into fourth place with a cut of 0.3, the bronze podium place settled on the back six, with Bill Beynon ending up third (but he got his entrance fee back) and Dave Blackmore (net 64) pipping him for runner-up place and a bit more money - both with 43 points, so both got 0.9 reductions down to 15.4 and 15.3, respectively.
'Rabbit of the Week' this time went to Gareth Davies after his excellent 44 points (net 63!) and he gets the rest of the prize pot along with a handicap cut of 1.5 down to 24 - well done young man!
When the sharers of the Twos Pot were declared, there were eight - Paul on 9a, Steve C, Steve W and Paul (again) on the 12th, Chris and Mike on the 17th and Ian W and Steve W (again!) on the par three 18th - so there were two 'Desmonds' - and hopefully they'll be able to repeat the twos next week!
In the Eclectic, three couldn't improve, five went up one, up by two for John P, Chris, Ian W, Steve W, Keith and Steve C, betterments of three from John B and Rees, up five for Bill B, up six for Bill D and Gareth and, in his third game, up 10 for Dave Blackmore, which leaves Paul C clear on 64, Rees second on 60 and on 58 we have Steve C, Keith, Steve W, Shaun and Robin.
In the Winter League 'Best 8 scores', a dozen of the 25 players (so far) have eight or more cards in. Dave B has 97 from three cards, Bill B 142 from four, Peter 174 from five and Ian W 173 from 6. At the 'upper end', things are getting exciting with all eyes on what 'lower scores' need to get dropped, with eight of the 'eight-card dozen' having scores of less than 30 to jettison. Currently in sixth is Shaun on 261, Grant fifth on 267, Steve W in fourth and Robin in third - both on 271, holidaying Mark now second on 275 and new leader Steve C with 277, although they all need to keep an eye on the lurking Keith 'Lloyds Bank' Dolman (he's a bit of a dark horse) who is on 255 after only seven cards - he'll be the new leader in a fortnight!
The Winter League takes a back seat next week as January 13 will be an unlucky day for one captain as the Rabbits take on 'The Others who play on a Sunday' in an 8.30 am shotgun start. The Rabbits are the perennial underdogs against their 'lower handicap' opponents, but the current crop of Rabbit warriors are decent golfers - the majority average 30 or more in the Winter League table - and over a third of the field were buffer-zone or better this week with four scores in the 40s, so hopes are rightfully high that they can laud a fourth winning Rabbit captain since the shield was first battled over in 1980/81 to sit alongside famous Rabbit former leaders and luminaries Brian Hartley, Gordon Carney and Mackie Harts, and encouragingly the score last January was 4-4 (with the Rabbits actually winning 'on aggregate' by 'losing by eight' but 'winning by 15', however the 'Others' retained the shield as previous winners).
Captain Steve has revealed his pairings and their starting tees and encouraged his troops to continue their golf practice regime (plus learn their banter comments) and to finish reading their 'How to get into your opponents head while on the golf course' books (although some of the Rabbits are so adept at this that they don't need to read the books!).
Good luck to the Rabbits. Bring on the fourth winning Rabbit captain. Come on lads, you can do it!
CHICKEN TROTTERS OF YESTERYEAR
The first Chicken Trot of 1999 occupied the morning of January 22, the weather was frosty and foggy - and there had been no Trotter activity for the previous four Fridays because of gales and rain!
Thirty-four Trotters, a medium sized field, were soon circulating around the chilly course, and when the circulating stopped the positions were as follows:
Darrel John and Ivor Smith tied for fifth place with 29 points apiece; this was worth 60p each with no reduction in handicap. In fourth place, Steve Evans scored 30 points and won £1 - no handicap reduction there either. Third spot was occupied by Billy Griffiths with a score of 31, a prize of £1.50 and a reduction of one stroke. Mike Fox and Matt Moscrop shared first place with 32 points each, each winning a generous £2 and losing a savage five strokes.
Malcolm Arlott and Jim Martin both slotted their second shot on the 12th hole, winning 80p each - not a large reward for such a magnificent effort! And Ray Irish brought up the rear with 18 points, receiving some sympathy, two strokes to help him on the following Friday - and - 30p. Par for the day was 29 points.
Elsewhere in January 1999... the Euro currency was taken into use, and in the USA, impeachment action was commenced against President Bill Clinton.
THE CHICKEN TROTTERS – ROGER AND MARY AND OLIVER
Friday, January 4, was seasonally Arctic; noses became red, fingers lost their feeling and there was little lingering to admire the scenery by any of the 22 Chicken Trotters who assembled to compete for the prestigious Roger and Mary Trophy.
Just for a change, the competitors play off their club handicaps, no strokes are deducted and no 'Sin Bin' amendments are effective - this generally has the effect of making scoring more difficult, since due to the benevolent generosity of our beloved leader, Organiser Steve Cole, most Chicken Trotters' handicaps are just a tad, or even a smidgeon, different to their club handicaps.
Starting at the 'Also Ran' end of the scoring, the result of this traditional competition looked like this:
Hywel Probert claimed 22nd position to win the Booby prize - 30p and a two-shot handicap increase. Paul Davies showed the beginnings of a return to form by claiming fourth place with a workmanlike 28 points, winning a parsimonious 30p. In third place, Ken Goldsbrough got his name in the Observer by carding a hard-earned 29 points and pocketing the pretty paltry purse of 60p. Narrowly missing the top spot, Steve the Organgrinder worked hard to attain 34 points - only awarding himself 90p.
Top scorer, having travelled by far the furthest to compete, was Oliver Maund, grandson of Brian Waters and occasional visitor to the Chicken Trotter Friday gathering. Ollie squeezed 35 points out of the links to win a hardly generous £1.20 - and the trophy! The photograph shows Ollie being presented with the very Avant-Garde device by Steve - who was not the least bit miffed at avoiding victory by a single stroke!
The only two of the morning was won my Meurig Jones on hole 9a, resulting in a lucrative award of £1.10. Par for the 15-hole competition was 24 Stableford points, and there were 56 blobs recorded - roughly 2½ each!
So - one competition down - several more to come, watch this space!
Three C?lubs and a putter 14-hole stableford (yellow and red tees)
Eighty-five players entered the annual 'three clubs and a putter 14-hole stableford' competition on Saturday.
A popular mixed event played off the yellow and red tees, the competition produced some excellent scoring - despite the lack of clubs available to players.
Undoubted highlight (or highlights), though, was a pair of aces, Grant?Watkins bagging his hole-in-one on the new ninth and Peter Rossi sinking his tee-shot on the always tricky 12th.
It earned each of them two shares of the twos kitty.
Leading scores and prize winners were: 1. Angela Gottwaltz 33 pts (£50); 2. Michael Schooling 31, on countback (£42); 3. Chris Smith 31, on countback (£37); 4. Graham?Waring 31 (£32); 5. Nel Allen 30, on countback (£26); 6. Desmond Stone 30, on countback (£21); 7. Alan Webster 30, on countback (£16); 8. Neil Dickinson 30, on countback (£11); 9. Peter?Rossi 30 (£7).
Twos: As well as seven 2s, two holes-in-one were recorded (each counting as two 2s). The aces came from Grant Watkins and Peter Rossi, with the twos by James Brown, Stephen Cole, David Evans, John Stenson, Stephen Williams, Paul James and Michael Schooling (£8 each).
Bag draw: J. Goldsmith, J. Broomhead, N. Rogers, C. Smith, T. Key (£17 each).
Pro Shop draw: A. Murdoch, D. Evans (Ghustbuster umbrella).
Comments
To leave a comment you need to create an account. |
All comments 0