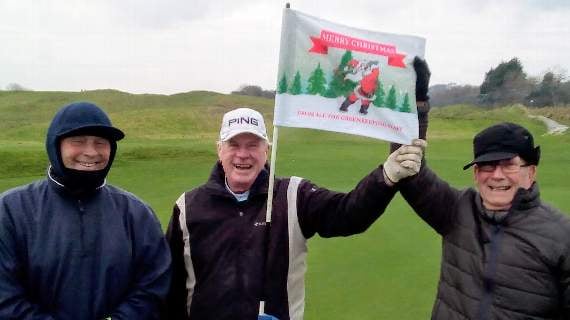 Chicken Trotters
Subscribe newsletter
Subscribe to our email and get updates right in your inbox.
After 14 days without a Trot, many of the Chickens were suffering withdrawal symptoms - so when Friday, December 14, dawned dry and clear, albeit windy and really bitterly cold, 15 tough Trotters were out of their duvets and onto the links like a shot!
I thought it fitting that this article should have a Christmassy flavour, so we shall start with the photograph showing what could easily be mistaken for Shackleton and a couple of his crew at the South Pole! It is, in fact, Ken Gouldsbrough, John Ross and Derek Bath showing the new flag at the 18th hole, rather a special flag this one, designed and implemented by the greenkeeping quartet of Scott, David, Alex and Tom, wishing all members a Happy Christmas - thank you chaps on behalf of the Chicken Trotters
The weather did affect the scoring a tad, par for the day - which is often up in the 30s - was kept down to 23 Stableford points, while 57 bad-language inducing 'Blobs' were recorded. We have no record of the number of balls lost, but whatever it was, it was probably compensated for by the mass of balls unearthed by Scott and the lads as they refurbish the sixth hole.
Brian Waters made his first appearance for a while - straight into the money list, even if it was a meagre 30p (plus two strokes) for 15th place. Nice to see you back Brian. The rest of the winning Trotters were:
In fourth position with a par busting 24 points, Peter Ellis keeps his name in the Observer, wins 30p and avoids any handicap cut. Tony Ranoe squeezed into third place with a cool 25 points, scooping 60p, but dropping one stroke to 27. Steve Cole, our beloved leader, had a great round considering his handicap of 12 and his additional role of ball-spotter for his partner. Rising to the challenge, Steve carded a splendid 28 points, pocketed 90p and moved three strokes closer to being a scratch player!
Now hereby hangs a tale, Derek Bath - featured in the photograph as Nanook of the North! - was playing pretty well, but possibly not expecting a victory - until the 18th hole! I will just point out that the 18th is currently playing as a par three, but retaining its stroke index and that Derek's handicap was a generous 34. Nonetheless, a cracking tee shot followed by a beeline putt ensured that his score was recorded as: Gross 2, Nett 0, Points 5! I think that is a nett Condor, a very rare bird!
This windfall made Derek the winner with 31 points, and earned him not only the top prize of £1.20, but a further 75p for the only two of the day - exciting or what?
Looking ahead, the last Trot of 2018 will be today (Friday), and if a KLM Cityhopper flies low over the course, please wave back 'cos that will be me! The good news is that one of Wales' premiere competitions - for the prestigious Roger and Mary Trophy - will be held on January 4, 2019. It only remains for me to wish you, Dear Reader, a happy Christmas, a prosperous New Year - and continued interest in the adventures of the Tenby Chicken Trotters!
CHICKEN TROTTERS OF YESTERYEAR
The last Chicken Trot of 1998, and the competition for the Roger and Mary Trophy, no entry fee - and a two-course Christmas Lunch for £6.50 a head - Friday, December 18, was a landmark in Trotter history! Fifty-six eager Trotters turned out on a fairly miserable day, where the early cloud soon gave way to rain, but it apparently failed to dampen the spirits of the Christmas Chickens!
The Chief Chicken recorded the top 15 scores from the tournament, and they were:
15th - Glyn Price 27 points; 14th - Mike Fox 27 points; 13th - Jim Rowley 28 points; 12th - Tony Morris 28 points; 11th - Matt Moscrop 28 points; 10th - Ivor Smith 29 points; 9th - Newman Vincent 29 points; 8th – Tom Griffiths - 30 points; 7th - John Hancock 30 points; 6th - Norman Goddard 30 points; 5th – Clifton John 31 points ; 4th - David Blackmore 32 points; 3rd - Ken Gouldsbrough 32 points; 2nd - John Stevenson 33 points.
The winner – also with 33 points, and the proud keeper of the trophy until next year - Malcolm Arlott, who made an emotional acceptance speech and bought everybody a drink. NOT!
There was no twos competition and the lowest scorer was not embarrassed by the award of the 'Booby' prize. Everybody played off their club handicap - and no handicap adjustments were made. Fifty-four sat down to lunch, including the club captain and the secretary - and a jolly good time was had by all!
A dozen wary Rabbits drove past the fallen tree at the top of the Golf Club Hill (the one some hadn't seen) wondering where the predicted heavy rain would appear during their round, hopefully maybe just after it, or if they'd bother going out in case it turned up early, writes Warren Hacker, our Links Reporter.
An early pre-start downpour almost put some off, but the four threeballs all took to the course in their drawn groups, with first off being Paul, Robin and treasurer Wyndham (festive Wyndham was trying to do a reindeer impression - he planned to dash-er way to a lunch rendezvous as soon as his round finished). One wouldn't have a score starting with three. One would be blob-less.
In the next group were Shaun, Steve C and Country & Western-loving Mike 'Hank E' Williams, but little did they know that they'd finish almost like a Steps song (6, 7, 8th) and would have the third best team score, but they all scored 30 or more. Plus a 'team blob' on the downwind third hole!
The 'Rabbits Hierarchy' of captain Steve W and his deputy Mark were in the third group alongside Keith and they all managed a top half finish, but the pressure was on the vice to try to get an eighth straight 30-or-more score to extend his lead in the 'Best 8' Winter League - would he manage it?
The final group of Adrian, Chris and Rees were the unlucky ones to be on the course with one to play as the rain came in and 'having the worst of the weather' is a good excuse for all being in the lower half (but they could only manage 34 points between them on the front nine when it was dry!). And a 'team blob' on the downwind ninth!
Despite the extra chance of a birdie two thanks to the shortened 18th, there were 48 unsuccessful attempts (49 if you include the one who drove the fifth), so the Twos Pot rolls over to next week, meaning it'll be worth turning up next week (unless you're packing for the Caribbean).
Captain Steve W read out the results and it was impressive that even 10th place managed 31 points (it was close behind that as the LBS (Least Best Score) was decided on countback) and he announced himself as the Bronze podium place winner after his 37 points (the wheels came off on the back nine), so deputy Mark's blob-free same score 37 left him runner-up and pipped Steve on the back nine to give him his entry fee back to mean that Mark has been 'thebridesmaid' four times in the eight weeks, and he DID manage to get eight scores in the thirties - well played, young man - very steady.
The 'Rabbit of the Week' was declared to be Robin with a fine 40 points (20 out, 20 back, with a blob on the first) which resulted in him pocketing a tenner towards Christmas presents and a reduction in his handicap from 23 to 22. He's the seventh different winner in eight weeks.
On the Eclectic front, three couldn't manage any improvement this week, with one point gains from Mike and Adrian, betterments of two from Keith, Steve W, Shaun, Robin, Rees and Paul, with Steve C better off by three, so Paul on 60 now leads by three from Adrian, Rees and Robin on 57, with Shaun on 56.
On the Winter League 'Best 8' scores Mark (now on 275) has extended his lead to 23 over Steve C (253) and Steve W (247) - those the only ones with eight cards in. Robin is on 228 and Chris is on 211, both from seven. Wyndham is the best of the six carders on 200, Grant the best five carder on 159 and Peter the best with four cards on 139. Now the fun starts as people will begin to start 'dropping' lower scores and Mark's lowest score is a decent 30, while the Steves need to drop 24 and 23.
The Top 15 all average 30-plus, with Peter's the best (34.75). This all augurs well for the Rabbits when they take on the 'Others who play on Sunday' on January 13 in Fourball Betterball matchplay, so hopefully they'll observe the suggestion from captain Steve not to over-imbibe over the festive season and they''ll get plenty of early nights in in readiness for 'The Battle Ahead'.
Tuesday was to be the final event of the calendar year for the Seniors. All had been eagerly awaiting the hidden partners event to be played over 15 holes, followed by the presentation of the mid-term results. It was with a mixture of disappointment and relief that they all greeted Derek's message that, due to the severe weather forecast, the golfing part of the day had been cancelled.
The forecast was accurate and everyone gazed wistfully out of their windows to see the steady downpour that had prevented their action on the golf course. However, 29 members gathered at the club in good spirit to enjoy each other's company with lively conversation over a pint, a coffee, a wine or even a coke.
The festive food was served up from the kitchen and they all tucked in to the traditional three course meal, ham - egg - and chips. On completion of the meal, captain Derek Cole rose to address the gathering and announce the current standings in each category.
There are two categories for the over 75s – an eclectic net and an order of merit (best three cards).
In the eclectic net, the current leader is Richard Davies with 53 pts. Second place goes to Tony Ranoe, also with 53. One point behind in third place is Alan Jones on 52.
In the order of merit for over 75s, Alan Jones heads the table with 109 pts, closely followed by Richard Davies with 108. Third place went to Steve Decosimo with 100 pts.
The order of merit (best three cards) in the general field played out as follows: 1. Roger Barton 118 pts; 2. Robin Hagley 114; 3. Michael Whale 111.
In the eclectic gross category: 1. Roger Barton 64 pts; 2. Jim Moffatt 67; 3. Meirion Griffiths 67.
Finally, the current scores in the eclectic net category are as follows: 1. Adrian Palmer 54 pts (better back nine); 2. Meirion Griffiths 54 (better back nine); 3. Robin Hagley 54.
Those listed are the current standings and are subject to change as each competition will continue after the Christmas break. All is not lost and everyone can improve on scores already achieved. In his address to the senior members present, Derek reminded everyone that the amended rules by the Golfing Union will come into force in January. His final words were to wish everyone a happy Christmas and a safe and happy return in January.
Comments
To leave a comment you need to create an account. |
All comments 0