So we got wet - but we got dry again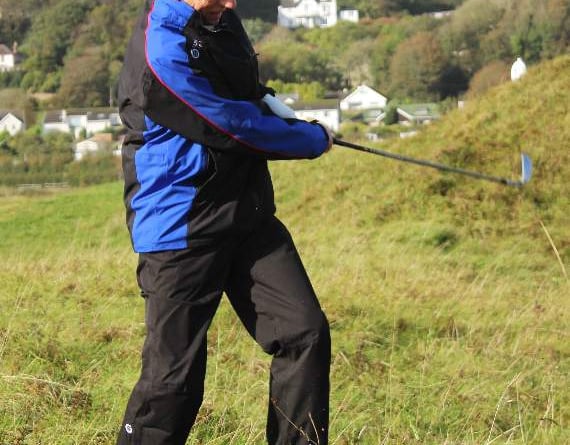 Adrian Palmer gets out of trouble on the fifth.
Subscribe newsletter
Subscribe to our email and get updates right in your inbox.
The forecasters just about had it right. They indicated that there was a chance of a squally shower and there was an equal chance of not catching a shower at all.
The thirty-three seniors who turned up ready and eager to start their Winter season must have collectively cupped their hands on the first tee because they all caught the heavy and prolonged squall that engulfed them over the first few holes.
The wet weather gear was donned and umbrellas were unfurled as they attempted to fight against the elements. Well – some did.
At least nine had no interest in competing against the rain and wind. They walked, or buggied, in.
Had they persevered they would have enjoyed the warm sunshine that eventually took pity on this band of old fogeys by drying out their gear and allowing them to remove some outer clothing.
The wind was quite brisk and was one reason for keeping the scores to a reasonable level. There were no cards with forty on them this week. The final result-sheet showed scores from zero to thirty-seven with only twelve managing to creep into the thirties.
Three of those who completed the course scored less than twenty to add to the seven who walked in.
Roger Barton and David Lamb were in a bit of a 'tizz' on the first tee. They were ready to go but there was no sign of the new captain, Mick Whale.
The Captain was not on deck when he was needed.
Now we know he is quite relaxed but not to be on the tee on his first day in charge? He was eventually found, chatting to someone in the locker room oblivious to the turmoil taking place outside.
It took Roger a few holes to recover. David was quite relaxed!
The course was in great condition – the rough was punishing, the greens were true and the fairways had grass on them. There was even sight of the 'lesser spotted mower' on one fairway, a sight not witnessed for a long while.
Just falling short of the thirty mark there were five seniors on twenty-seven. They were Brian Waters, Meirion Griffiths, Stan Hudson, Dudley Williams and Mick Seal.
Creeping onto the thirty score-line was Idwal, one ahead of David Rees, Jim Moffatt, and Stephen Cole, all on thirty-one. Glen Smith and Des Stone went one better on thirty-two while Jim Martin was one better again on thirty-three.
Roger Barton scored thirty- four while the top four scaled even dizzier heights.
Fourth place went to Allen Watts, despite his poor putting, on thirty-five. With the same score, but a better back nine, was Peter Hughes.
He would have scored more had he not been upset at losing his scorecard. Fortunately the group behind retrieved it for him and allowed him to complete his card and enter a score.
Charie McFee continues to burn up the course. His thirty-six put him in second spot just one point behind this week's winner, Ross James. His thirty-seven was better than his scores on the recent tour.
Having just been welcomed into the senior ranks, new member, Glenn Smith was delighted to receive the prize draw, which was double the fee he paid to join the group.
Two skilful members earned a share by scoring a two. Jim Moffatt had his on the sixth while Meirion Griffiths had his on the seventeenth. By the time Mick rose to address the members there were only a dozen left in the clubhouse. Roll on next week.
Comments
To leave a comment you need to create an account. |
All comments 0