Seaside seclusion: how the Coronavirus pandemic hit Pembrokeshire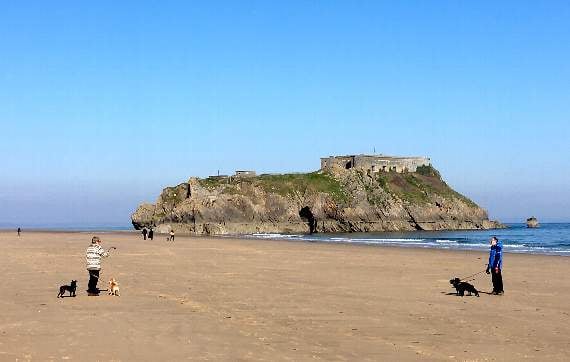 Seaside seclusion - dog walkers use their daily allowance to exercise on Tenby's South Beach whilst keeping their distance (Observer pic)
Subscribe newsletter
Subscribe to our email and get updates right in your inbox.
After Monday's announcement by the Government that the UK had been placed under lockdown amid the coronavirus pandemic, banning public gatherings, and stating that people should not leave their homes unless shopping for essential food, medicine or to exercise - Tenby and Pembrokeshire's rural communities have been coming to terms with the impact that the measures will have on the local economy and people's liberty.
With the directive from the Prime Minister on Friday ordering the closure of pubs, clubs, restaurants and all shops that do not sell essential items, to try to stop the spread of coronavirus, only food places offering takeaways and deliveries remained open.
The closure of other facilities where people may gather, such as leisure centres, gyms, cinemas, theatres and betting shops were also signed off, however many shops and businesses were left in limbo on Saturday ahead of Mothering Sunday, not knowing whether they should shut too, until ordered to do so, to ensure that they were eligible for the financial package put in place by the Government to protect people's jobs and wages.
Saturday saw many daytrippers descend on seaside and tourist spots such as Tenby, Saundersfoot, Wiseman's Bridge and Amroth, across the county with a joint statement issued the following day by Pembrokeshire, Ceredigion and Carmarthenshire county councils warning visitors that it was not safe to visit areas away from their homes, risking the further spread of coronavirus.
Social distancing advice that was not being followed left Tenby county councillor Michael Williams fuming.
"The way they descended on us his weekend was ludicrous. It was like a summer's afternoon in Tenby!" he remarked. "It has been staggering to witness the stupidity and irresponsibility of those that have arrived in the area.
"Self-isolation for those who have symptoms and social distancing by everyone is absolutely essential at this stage if we are to delay the spread of this virus and save lives," continued Clr. Williams, demanding more 'draconian' measures if people were not seen to be following restrictions about travelling in Wales.
Pembrokeshire County Council leader Clr. David Simpson stressed that an 'influx of tourists' into West Wales would present a 'serious risk' to people's health and an 'overwhelming and unnecessary' pressure on local services and supply chains.
"Our absolute top priority is the need to stop spread of this virus and also to protect our NHS from the increased pressures that tourism brings at a time when they will be stretched to the absolute limit," he stated.
"We are taking an unprecedented step and asking people not to come on holiday to Pembrokeshire at this time.
"We promise you that Pembrokeshire will be just as amazing places once this is all over and we are looking forward to the day in the near future when we are once again welcoming everyone back," added the PCC leader.
It appeared to be quieter in Tenby on Monday reported Clr. Jon Preston, who represents Penally and New Hedges on the county council, stating that it 'beggars belief' that people had not heeded Government advice.
Indeed by Monday, many of the shops and businesses in Tenby and surrounding areas, apart form those classed as offering essentials of food and other supplies, such as supermarkets and pharmacies, had closed, and the town was noticeably quieter.
The centre of the town - Tudor Square felt like the summer pedestrianisation period in reverse, and ironically, after Tenby had experienced the heaviest amounts of rainfall in almost 25 years over the past six months - the sun had discovered how to put his hat on again - but any cafe culture vibe seemed long in the distance.
Anyone spotted out and about were choosing to make the most of the open spaces of the resort's beaches for exercise, and dog walking, all seemingly abiding by the social distancing guidance.
Signs appeared on doors of hotels and guest houses along Tenby's Esplanade and across the resort to state it was with 'a heavy heart' that they must close during the crisis.
'This is a scary and uncertain time for everyone, and with your support we will be back stronger than ever when this is all over' - stated the proprietors of The Cranny gin shop on Tenby's High Street in a post to announce its closure until further notice.
Holiday and caravan parks in the area gradually started shutting down, along with popular tourist attractions such as Folly Farm and Manor House Wildlife Park.
Pembrokeshire Coast National Park Authority made the decision to close the majority of its car parks and significant sections of the Coast Path, whilst the county council closed coastal and town centre car parks.
Police were on patrol checking that motorists were only undertaking 'essential journeys' and making sure that there were no signs of large groups of people congregating outdoors.
"Remember, stay home, protect our NHS and save lives!" stated Police Superintendent for Pembrokeshire Ross Evans.
Most hard-hitting was the announcement that the number of mourners attending funerals would be restricted at gravesides for the foreseeable future.
The Mayor of Tenby has reinforced the need for the community to support each other in times of crisis due to the Coronavirus pandemic.
"All I can stress is if we look out for each other like I know the people of Tenby can do, we can make it through these terrible times," commented Mayor, Clr. Tony Brown.
"There are so many wonderful people in Tenby and the surrounding area pulling together to help others in these unprecedented circumstances," said the town clerk Andrew Davies.
Nearby, in Narberth - named as the best place to live in the UK over the weekend by a national newspaper - the Mayor thanked the many local businesses and individuals offering local deliveries, pick-ups and checking on those self-isolating and elderly during the pandemic.
"As a town council, we don't hold many powers but as individuals, we will do all we can to support our community. Narberth is a very resilient town and despite all the gloom going on, I'm sure we will overcome this," commented Mayor, Clr. Chris Walters.
Pembroke Dock county councillor Josh Beynon said that 'community spirit' had been 'amazing and great' in his constituency, but stated that a volunteering network would be crucial to offer a co-ordinated response to help the vulnerable during the crisis.
PCC leader Clr. Simpson once again reaffirmed that the absolute 'top priority' for the county was to stop the spread of this virus and also to protect the NHS from the increased pressures at a time when they will be stretched to the absolute limit.
Mansel Thomas of local campaign group the South East Pembrokeshire Community Health Network (SEPCHN) offered thanks to local NHS and Social Care staff for their work in supporting the community during the pandemic.
"Many members of our community are elderly, with additional help needs, and we are hearing of the wonderful efforts of so many local people prepared to help others, which emphasises the definition of a true community - but it is the skills and dedication of our health and social care colleagues on which so many of us now fundamentally depend," he added.
By Wednesday afternoon in Pembrokeshire, a Community Coordination Hub - a one stop shop for information on how to access help or volunteer to help others during the coronavirus pandemic had gone live.
The website, which will continue to be updated, features information for those who need help, those who wish to volunteer and links to community coronavirus support groups.
From Thursday police officers stated that they would be conducting high visibility patrols across the Dyfed-Powys Force area as part of national action in the wake of the Coronavirus pandemic.
The force is determined to dramatically reduce the amount of people still travelling and meeting socially despite the government lockdown - with patrols of public spaces and tourist hot-spots tone undertaken, along with stop-checks of drivers, to make sure that only those who need to travel are doing so.
"The coronavirus pandemic is the biggest challenge many of us have ever faced. But by working together we can ease the burden on some of those facing the biggest difficulties," stated PCC leader Clr. David Simpson.
Comments
To leave a comment you need to create an account. |
All comments 0