Saundersfoot community gets behind new Society tasked with saving seaside village's 'Lonely Tree'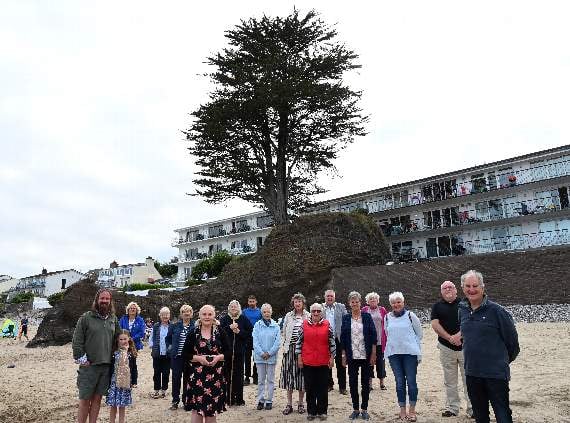 Members of Saundersfoot's 'Lonely Tree' Preservation Society pictured last week (Pic. Gareth Davies Photography)
()
Subscribe newsletter
Subscribe to our email and get updates right in your inbox.
A seaside community recently came together to form Saundersfoot's 'Lonely Tree' Preservation Society - to continue the battle to save the village's iconic seafront Monterey Cypress.
Pembrokeshire Coast National Park Authority's development management committee gave the community twelve months from June 9 to save their historic Monterey Cypress on Saundersfoot Beach; and since then the campaign to save this wonder of nature on Scar Rock from being felled (which began back in March) has gained momentum
Many isolated from family and friends in lockdown became galvanised by the power of social media to express their outpouring of love for this 'survivalist' of nature.
Affectionately known as the 'Lonely Tree' - it now has 1,500 Facebook friends, including Saundersfoot expatriots from all four corners of the world.
So those in the community have come together to form Saundersfoot's 'Lonely Tree' Preservation Society which is made up of representatives from - the Friends of Saundersfoot and District; Saundersfoot Community Council; Save Saundersfoot's Lonely Tree Group; and Saundersfoot in Bloom.
In addition to this the village's county councillor Phil Baker BEM has joined them in an advisory capacity, and will bring with him a wealth of experience working with Pembrokeshire County Council and PCNPA, which will prove invaluable to Saundersfoot's latest community group in the coming months.
A Tree Preservation Order for permission to work has recently been submitted by Arb-Aid Pembrokeshire on behalf of the Society and agenda items at their meetings include - community and formal fundraising, Arborist remedial works, quotations, marketing and publicity amongst other initiatives.
Nina Thomas, secretary of Saundersfoot's 'Lonely Tree' Preservation Society said: "I am delighted to be part of such a positive group all working collaboratively to preserve our iconic tree."
Nina's fellow members in this newly formed Society include - Community Councillor Martin Williams BEM (chairman), Nicky Mallen (treasurer), Michelle Evans (representing The Friends of Saundersfoot and District) and Ann Morris (representing Saundersfoot in Bloom).
The Society are indebted to Saundersfoot Community Council chairman Clr. Mike Wainwright and Clr. Rosemary Hayes MBE for showing their continued support.
All the community group representatives present at the photo call were pleased to meet with regular Saundersfoot visitor Clr. James Baker and his niece Emily Baker who along with their extended family have been so supportive of the very special tree.
"James has been very supportive providing advice and guidance to help with the campaign to save the iconic Monterey Cypress and gave a generous donation to the 'Lonely Tree' Fund," said Nicky Mallen treasurer of the newly formed Society.
"We also discovered that the Baker family who are regular visitors to Saundersfoot are also responsible for those amazing creative sand castle projects we see pop up on Saundersfoot Beach!"
You can find out more about Saunderfoot's 'Lonely Tree' Preservation Society and their progress in the coming weeks and months by joining the 'Save Saundersfoot's Lonely Tree' group on Facebook.
Comments
To leave a comment you need to create an account. |
All comments 0