Pembrokeshire's Future Stone Masons
Young people at Pembrokeshire College undertook introductory courses in Traditional Stone Masonry.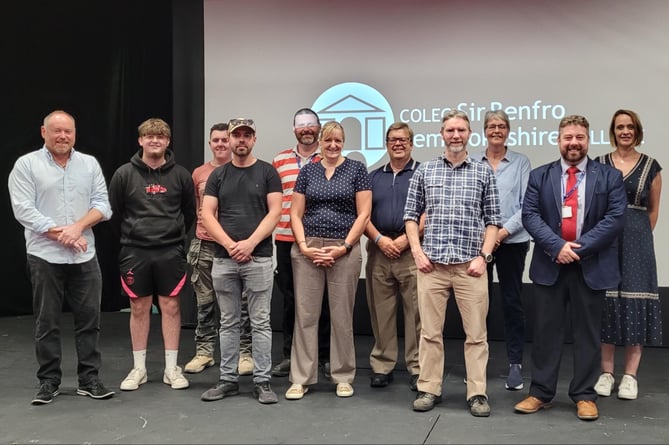 Subscribe newsletter
Subscribe to our email and get updates right in your inbox.
In March and May, 19 young people learning construction at Pembrokeshire College undertook ten-day courses as an Introduction to Traditional Stone Masonry.
The courses were financed by Pembroke Town Walls Trust as part of their project to develop a long-term management plan for restoring the town's medieval walls, and funded by the UK Government through the UK Community Renewal fund, managed by Pembrokeshire County Council.
The curriculum was designed and planned by Helena Burke of the Tywi Centre in Llandeilo and the courses led by Oliver Coe of Coe Stone in Haverfordwest. Advice on the training was received from Helen Murray of the Construction Industry Training Board.
The learners were presented with Certificates to record their hard work and achievements. The first week of the course took place at the College to learn theory and practical work in the workshops. The second week took place on site in Pembroke working on one of the town's burgage walls.
James Roach-John, the College Tutor who led the students on the course, said: "The learners have worked well together as a team and have enjoyed coming out of college to do some real work on site. It has been so good for them to see it coming to fruition and tying in with the history of their community as well. From the College's point of view, we think there is great scope for future work, and we thank the Pembroke Town Walls Trust for being so positive and supportive to give us this opportunity. It's been an amazing project."
Another group of talented young people from the Tanyard Youth Project's Postcards & Podcasts project in Pembroke, filmed the training courses and have made a very skilful documentary about it, interviewing the learners and the trainers as the courses progressed. The film can be viewed on the Pembroke Town Walls Trust website www.pembroketownwallstrust.org.uk
Elizabeth Gossage, Chair of Trustees for the Pembroke Town Walls Trust, said, "We have been so delighted to see this all coming together at last. We have been working for some years with the Tywi Centre, the College and CITB to develop this partnership and begin to deliver the training in this way. It is so central to the sustainability of our work to train future stone masons, and for the young people's long term employment prospects to learn these skills. We look forward to developing opportunities for them to do work experience with local stone masons and provide apprenticeships."
Comments
To leave a comment you need to create an account. |
All comments 0