The story of how a Welsh cake saved a life was one of the many highlights of the Tenby Observer Community Awards which took place on Friday evening. The video tells the story…
Winners of The Good Neighbour Award were Peter Beynon and David Bailey.
Peter and David run a busy guesthouse but are always happy to take deliveries on behalf of neighbours and take their "legendary fresh Welsh cakes" to neighbours and a show a great generosity of kindness to all without exception, both in their immediate neighbourhood and beyond, offering great ideas and support to their local congregation.
On the stage at the De Valence Pavilion on November 17, 2023 with Tindle Newspapers Wales & Borders Sales Manager Paul Higman, Jonathan Marsden (Bethel Chapel, Pembroke Dock) announced the winners. He then presented the Good Neighbour Award to Peter, posing with him briefly for a photograph before describing how one such neighbourly Welsh cake delivery turned out to be a life saver.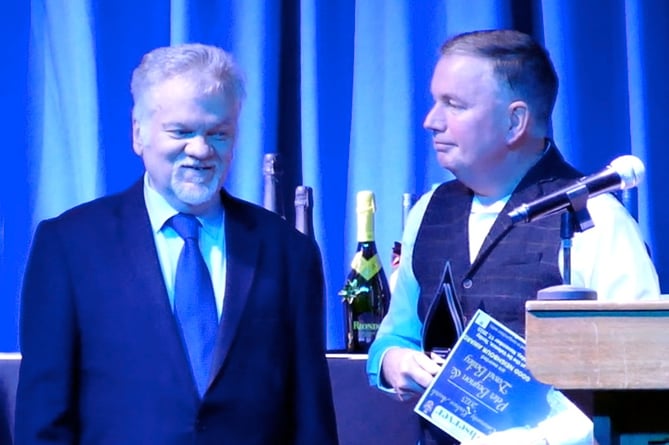 Jonathan Marsden (Bethel Chapel, Pembroke Dock) presents the Good Neighbour Award to Peter Beynon, who together with David Bailey, runs a guest house in Tenby.
(Observer pic)
Had it not been for Peter visiting his neighbour with just-made welsh cake and noticing a smell of gas, there could have been a disaster. His neighbour contacted the gas engineers who came round promptly and identified a strong gas leak from the meter.
So Peter actually saved the life of one neighbour with a Welsh cake!
It was the first Kindness in the Community evening in Tenby, but it won't be the last. The Tenby Observer is grateful to sponsors Ogi Broadband, Molson Coors, Celtic Holidays, Bethel Baptist Church, Bevan Buckland and Millbay Homes.
Organiser Carolyn Cox also thanks Fuchsia Catering for a wonderful buffet, Tenby Community Engagement Officer Anne Draper, Tenby Town Council and the De Valence Trust.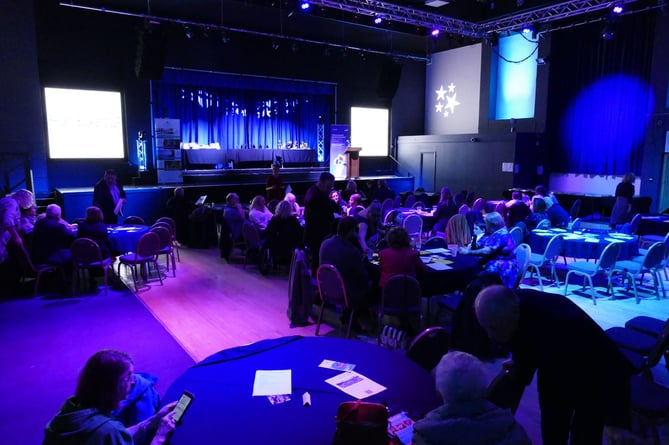 The De Valence Pavilion was the venue for the Kindness in the Community event
(Observer pic)
We'll be bringing more stories, pictures and videos from the event over the next few days.