John gets on board with Tenby train station adoption scheme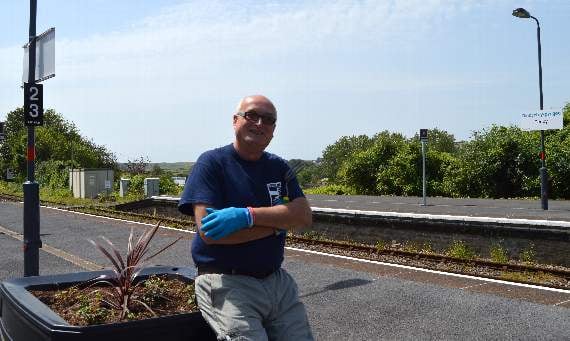 John Perrett has taken on board the task of helping to spruce up Tenby Train Station under the rail services 'adoption scheme'
()
Subscribe newsletter
Subscribe to our email and get updates right in your inbox.
Tenby train station has a new pair of hands taking on board the task of helping to spruce up it's appearance for the holiday season ahead and throughout the year.
John Perrett a regular visitor to Tenby who hails from Caerphilly recently took over station adoption duties at the station, volunteering to offer his help after finding that he had more and more complaining to do to rail authorities about the poor appearance of the facility - many holidaymakers first impression of the resort.
Station Adoption has been labelled a fantastic scheme bringing communities and the railway closer together, giving people the opportunity to volunteer and make a difference.
Volunteers are requested to file two reports a month regarding the condition of the station, but many do far more and work with rail authorities to help maintain station gardens. Many taking on the role have won national awards for their commitment and dedication. Weekly cleaning and maintenance is undertaken by Transport For Wales' own maintenance team.
"It has been a bugbear for me for over the last twelve months, as I regularly get off the morning train from Cardiff and the flowers beds are the first thing I see. It has been said here that I must be nuts to do a 200 mile round trip to water the plants!!" explained John, who said that he wanted to give something back to the community in Tenby due to the town being so welcoming towards him over the years.
"The planters have been covered in weeds since last year. After having a site meeting with the Transport For Wales' station adoption department official, and having the health and safety briefing, we discussed what practical improvements could be done.
"Two things were suggested - more planters on platform, one on the north end so they can be seen on arrival, and possibly on platform two in a similar position; the children's murals painted on the boarded up windows need renovating or replacing. All the planters have now been weeded and new plants planted.
"It would also be nice if we could get some hanging baskets for the four brackets that are there, so if anyone or any organisation is able to donate something floral for this cause, then that would be much appreciated.
"We have also thought about what can be done to the footbridge, considering different paint colours, panelled murals or even a welcome to Tenby banner!
"The station has recently been repainted in the new branding colours. However some other parts may have a lick of paint too. New station signage is on order, and the car park markings have also been repainted.
"I've also been complaining about the litter on the platform three trackbed and overgrown bushes, but unfortunately that is not TfW property, it belongs to Network Rail. I offered to pick it up, however that would mean trespassing!
"They have been informed of the rubbish, but it would be a good idea for as many as possible to complain to Network Rail about the litter situation to put this right," he remarked.
Transport for Wales Rail Services have been undertaking a package of minor improvement works at the Tenby station recently included the redecoration and rebranding of station furniture items including: canopy columns, token kiosks and equipment cabinets, window frames, lighting columns, and external seating. A similar set of works have also taken place at Saundersfoot.
Colin Lea, director of customer experience for Transport for Wales Rail Services said: "We're delighted to have completed these projects in Tenby and Saundersfoot as part of our £194 million station investment plan.
"Making stations welcoming, bright and safe places is incredibly important to our customers and communities.
"We know our stations are often the gateway to those communities and the first impressions visitors get of a place so we want to make a real effort to get them looking their best," he added.
TfW community relations manager Geraint Morgan said of the Station Adoption scheme: "First impressions of a station are very important, not only for regular rail users but the many visitors who travel here every year. It's been great to meet John and we're very grateful to him for his support in helping to maintain the recently refreshed floral planters."
John's efforts have also been praised by Tenby town councillor and Tenby in Bloom chair, Clr. Mrs. Sue Lane.
"Good on him! We appreciate John's hard work and we need more people in the community to come forward and help like this with such areas in need of a little TLC," she said.
John said that should anybody have suggestions for minor improvements to please contact him.
"I have to regularly file a report about the station condition, so I can pass on any suggestions," he added.
You can contact John either through Facebook or via email at: [email protected] putting 'Tenby Rail Station' in the subject heading.
Comments
To leave a comment you need to create an account. |
All comments 0