Activity Corner
Activity Corner is a regular column by Anne Draper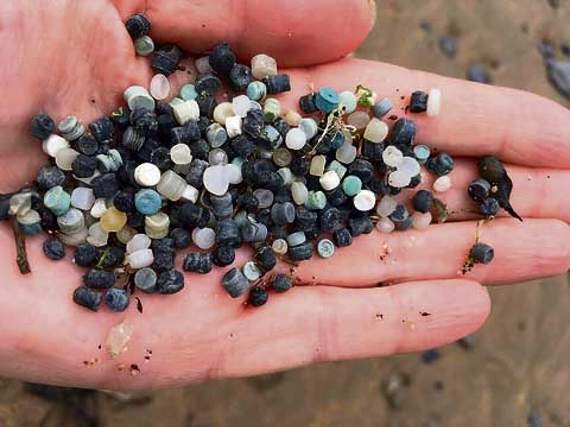 A handful of 'nurdles'
()
Subscribe newsletter
Subscribe to our email and get updates right in your inbox.
On Tuesday, August 9, there will be two films on at the De Valence in Upper Frog Street, Tenby.
At 4pm, Boss Baby 2 will be screened. It will be £3 per person, and doors will open at 3.30pm. At 7pm, Spiderman: No Way Home will be shown. Entrance will be £5 or £4 for members of Films4Tenby, and the doors will open at 6.30pm.
Everyone is welcome to come along, but please can children be accompanied. You can also book a three-course pre-screening meal at the Fuschia Caffe before the evening screening for £13. They pick something to fit with the film if they can, and last time even had appropriate music, so it turns the film screening into a great night out! Please book the meal direct with the Fuschia.
This is a Hindu celebration that takes place this year on Thursday, August 11, on the full moon. It is a time for brothers and sisters to renew the bond of safety and security that they promise to each other. Traditionally, the sisters tie a rakhi around their brother's wrists to show that they are praying for them, and the brothers give their sisters a present and vow to protect them. I think now, both brothers and sisters tie rakhi on each other and vow to protect each other. Rakhi are made with coloured thread and are similar to friendship bracelets. You could make some to exchange with your siblings. This is a good time to get in touch with any siblings - or to have a get together – any excuse for a party!
The Tenby Branch of the Royal British Legion now has its headquarters in the De Valence. They want to display their memorabilia so they are asking anyone who had some to look after when the British Legion Club closed down, to bring it back so it can be put on display. Bring it to the De Valence or to Daniela Walker, the branch secretary.
Doyleys – or doilies – are handy for putting under a plate of biscuits or to put in your lunch box... but why not make your own! Fold a piece of paper – white or coloured – in half into a triangle, and then in half again into a smaller triangle. Make some different sized cuts around the edges of the triangle, but just go a short way in from the edges. Open it up and see what you have created. Experiment with different sizes and shapes of snips...
If you are spending time on the beach, here is something to try. You need at least two people, preferably a couple of pairs to compete with each other. One person in each pair is buried up to the waist in sand, and the other is the executive sand assistant. Tasks are set by the sand assistants and the half buried people try to carry them out – maybe see who can throw a ball furthest, who can get a ball into a bucket the most often, who can have a bucket of water poured over them without making a noise, what tasks can you think of?
While you are on the beach, you could go nurdle hunting! Nurdles are the tiny bits of plastic that are melted down to make plastic things. They end up in the ocean as rubbish that didn't get recycled floats into rivers and spends time degrading into the little lentil-sized pieces. They cause problems as fish think they are food and poison themselves eating them. The next thing you know, some of them have been washed up on the beach. You may find them along the tide lines, along the edges of rocks and pathways, and mixed in with pebbles.
Collect as much as you can, to stop it being washed back into the sea. Keep some in a jar to show people what is happening. You could also go online and join the Great Nurdle Hunt as a citizen scientist, to help the scientists map where the nurdles are being washed up.
Tenby Community Edible Garden
The Edible Garden has been awarded the Community Green Flag Award by Keep Wales Tidy, for being an excellent community space managed by volunteers. Congratulations to everyone who has, and is, helping to make this garden such a success. We should have a celebration in the garden – we even have a plaque to put up!
Any suggestions? Shall we have a garden party this month sometime? If you are interested in helping organise this, please get in touch!
People are always welcome to come along to the garden in Sutton Street and to pick any vegetables that they see are ready. There is kale, lettuce, broad beans, spinach, spring onions... who knows what might pop up next. If you would like to help with the gardening, that is great too. There is a storage box behind the garden bench under the shelter with tools etc, to use, just go along any time that suits you. Someone is usually there on Tuesdays at 11am if you would like to chat to someone, and there is a noticeboard so we can keep in touch with each other.
Comments
To leave a comment you need to create an account. |
All comments 0