Creative Camino: the maiden journey for a new cross-border pilgrim route
Friday 22nd April 2022 7:20 am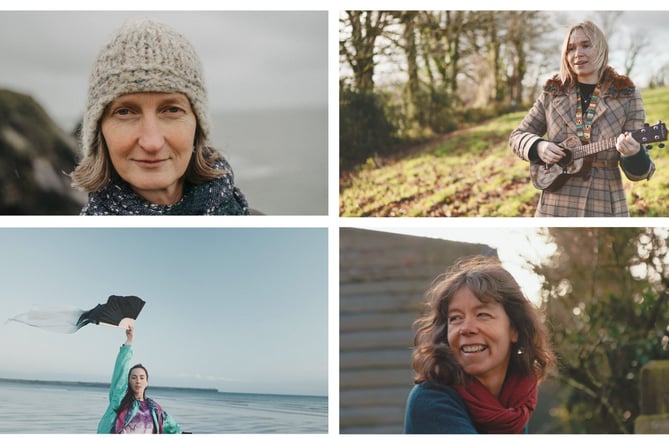 Subscribe newsletter
Subscribe to our email and get updates right in your inbox.
An eclectic group of pilgrims have been brought together by Ancient Connections to trial the new pilgrim route between Ferns in County Wexford and St. Davids in Pembrokeshire between May 1 and 8, 2022.
Amongst the group are artists from Pembrokeshire: singer songwriter Suzi MacGregor and movement artist Ailsa Richardson. From Wexford are dancer Bonnie Boux and fiddle player Kate Powell. Alongside them will be community pilgrims from both regions, and a travel writer.
A filmmaker will walk alongside the pilgrims, documenting the stunning landscapes that they will pass through and each pilgrim's unique experiences. The group will be led by experienced guide Iain Tweedale, who runs a pilgrimage company called Journeying, based in Pembrokeshire.
The 145 km (90 mile) pilgrim route will be managed by The British Pilgrimage Trust and partners into the long term. It will be the primary legacy of the four-year ERDF funded project Ancient Connections, which runs until July 2023. The project aims to build on and strengthen historic links between these two Celtic lands, in particular the friendship between St .David, patron saint of Wales and St. Aidan of Ferns in the Early Mediaeval period. The Creative Camino is a chance to test the route and generate creative responses to it in order to prepare for its full public launch in 2023.
Guide Iain Tweedale says:
"I'm really looking forward to guiding the first group of pilgrims on the route," says Iain Tweedale from Journeying. "Modern-day pilgrimage is all about taking time out of our busy lives to go on both an outer journey through these beautiful counties, and on an inner journey to re-connect with nature and ourselves in ways that can be truly transformational."
The Creative Camino kicks off with a weekend of events in Ferns, show casing community and arts projects that have been supported by the Ancient Connections project.
On May 1, the evening events will commence with a talk by internationally renowned Welsh artist Bedwyr Williams about his forthcoming public art commission 'Do the Little Things' – a series of oversized but fully functioning bee skeps made from cedar wood to be located near St. Edan's Cathedral, Ferns, and St. Davids Cathedral, Pembrokeshire.
The skeps will mark the beginning and end of the pilgrim route and pay homage to the friendship between St David and his protégé St Aidan, founder of Ferns Monastery. This will be followed by a world premiere concert of a traditional Celtic music piece, composed and performed by Melanie O'Reilly, singing alongside local choirs. Wexford based events company Lanterns will co-ordinate a spectacular send off for the group of pilgrims, including lanterns made by local school children and a rowdy performance from the Bloc Garman Drummers.
The route takes the group from Ferns to Oulart, site of the Tulach a' tSolais monument that is aligned to the solar solstice and commemorates the The United Irishmen's uprising of 1798, then on to Oylgate, where there is a Holy Well dedicated to St David, and continuing south via the National Heritage Park, the Forth Mountain and Johnstown Castle to Our Lady's Ireland, which has been a pilgrimage site since the 6th Century.
The pilgrims will take the ferry from Rosslare over to Fishguard. They will walk on the coast path via Llanwnda, a small church on the clifftop steeped in religious and political history, on to Whitesands Bay, where recent excavations of St. Patricks Chapel revealed fascinating details of a site used by Mediaeval pilgrims for several centuries.
Finally, the group will travel to St. Nons Chapel, birthplace of St. David and on to St. Davids Cathedral, where they will be met by a giant St. Davids puppet created by Small World Theatre, and a community choir led by Span Arts performing a newly composed pilgrim song. The four artist-pilgrims will present an impromptu performance about their journey and the stories and people they have encountered along the way.
Ancient Connections is led by Pembrokeshire County Council, together with partners Wexford County Council, Pembrokeshire Coast National Park Authority and Visit Wexford funded by the European Regional Development Fund through the Ireland Wales co-operation programme.
If you are interested in finding out more or getting involved in any aspect of the Ancient Connections project please email the team at [email protected]
Comments
To leave a comment you need to create an account. |
All comments 0