Councillor's call to ban 'dangerous' jet skis from Pembrokeshire National Park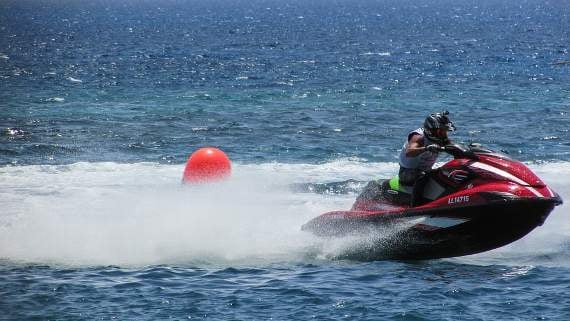 Subscribe newsletter
Subscribe to our email and get updates right in your inbox.
Concerns have been raised once again over the volume of 'jet skis' racing around seaside areas such as Tenby and other coastal parts of Pembrokeshire, disturbing wildlife, and posing danger to members of the public swimming in the sea.
In correspondence sent to Pembrokeshire Coast National Park Authority's director of countryside, community and visitor services James Parkin this week, County councillor for Tenby's north ward, Clr. Michael Williams said that the problem which has been evident for many years needs addressing urgently, as more and more incidents of 'irresponsible and dangerous' use increases every summer.
"We have been plagued this summer by jet skis in the southern Carmarthen Bay area, the latest incident being Monday morning (September 21) when three skis were racing around at very high speeds off Tenby South beach in close proximity to people in the sea!" stated Clr. Williams.
"On more than one occasion this summer I have witnessed skis in very close proximity to St Margaret's Island, which as you are aware is a bird sanctuary, causing huge disturbance to nesting sea birds.
"At one time four skis caused a mass evacuation of Guillemots and Razorbill's which resulted in huge numbers of chicks and eggs to be dislodged in to the sea.
"St Margaret's is also a major nesting area on the Western seaboard of the UK for Cormorants and Shags, and the disturbance this year due the the calm weather which has facilitated these irresponsible individuals easy access to the island has been very concerning.
"My understanding is that the Pembrokeshire Coast National Park have some kind of voluntary agreement at Lydstep Haven with Bourne Leisure who own the site, to regulate the use of jet skis? If this is correct I'm afraid that this arrangement is not effective and needs urgently addressing as this is the only area that I am aware of in the south of Carmarthen Bay that allows them to be launched.
"Possibly, action should be taken to ban them from the National Park such is the disturbance to wildlife and the danger to the users of the marine area.
"This problem has been evident for many years and the incidents of irresponsible and dangerous use increases every summer," added Clr. Williams.
In response, PCNPA's Director of Countryside, Community and Visitor Services James Parkin said: "There is growing concern relating to use of personal watercraft in and around Tenby with public safety, wildlife disturbance and noise pollution becoming serious issues.
"The National Park, and Tenby in particular, has witnessed a significant surge in visitor numbers over the last two summers which, unfortunately, has also been accompanied by a rise in risk taking behaviours amongst a small number of people.
"The rapid increase in anti-social and dangerous behaviour amongst some personal watercraft users is an area of concern for the Authority as we attempt to manage the increased visitor pressures on the National Park while safeguarding the area's special qualities.
"Over the past two seasons we have employed slipway security on land owned by the Authority at Freshwater East to limit the numbers and frequency of personal watercraft users accessing the water.
"The Authority is also working with other coastal agencies across Wales to collate evidence for change when it comes to managing personal watercraft and the issues surrounding their misuse in the water.
"This includes supporting the Pembrokeshire Water Safety Forum in developing a series of localised measures to be implemented to try and manage the situation in advance of next season," he added.
There has been an upsurge in the use of Personal Water Craft (PWC or 'jet skis') around Welsh waters in recent years, with incidents of wildlife disturbance being logged from Anglesey in north Wales down to RSPB Ramsey Island in Pembrokeshire.
Highlighting the issues regarding disturbance to wildlife, Greg Morgan, RSPB Ramsey Island Site Manager, recently stated: "We would like as many people as possible to safely and respectfully enjoy the wildlife around our waters.
"Using local skippers from the many tourist operators in Pembrokeshire is the ideal way to do this as all skippers are trained and aware of marine disturbance issues.
"If you are out in your own vessel however please take time to make yourself fully aware of the Pembrokeshire Marine Code or, for a more Wales wide view, see the Wild Seas Wales website.
"A few minutes reading up will help ensure you remain wildlife aware, see more and avoid any risk of prosecution."
Sergeant Matthew Langley, Dyfed Powys Police Rural Crime Team, said: "The Pembrokeshire Coast is an important area for nesting sea birds and marine mammals, and they have legal protection in UK legislation.
"They are sensitive to disturbance from sea going vessels such as jet skis, kayaks and speedboats.
"Working with our partners we will encourage everyone to enjoy our waters and to maintain a safe distance from the marine animals, seabirds and their nesting areas. We will however take legal action if necessary."
Gary Nicholas, Leisure Services Manager for Pembrokeshire County Council, said: "From a water safety perspective we'd like to re-iterate the need for users of watercraft do this in a safe and considerate manner ensuring that they control their speed within 100m of the mainland at all times.
"Both the noise and physical risk of inappropriate use of PWC can be detrimental to many (human, animal and environmental) and can easily be addressed by considering where and how users participate in this activity.
"Rather than landowners having to consider the management of waterway access as a future control measure we would prefer that individuals behaved in line with the Pembrokeshire marine code."
If you are concerned about any wildlife disturbance event you witness, you can report it to Dyfed-Powys Police, either online, by emailing or by calling 101.
If you are deaf, hard of hearing, or speech impaired, text the non-emergency number on 07811 311 908.
Alternatively, contact the independent charity Crimestoppers anonymously by calling 0800 555111.
Comments
To leave a comment you need to create an account. |
All comments 0