Campaign launched for Pembroke Henry VII statue
Friday 9th October 2015 6:45 am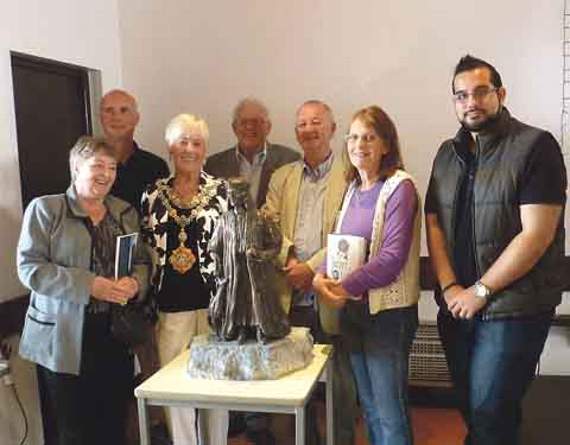 Clr. Rose Blackburn (town crier), Tony Riches, Pembroke Mayor, Clr. Pauline Waters, George Lewis, Terry Breverton, Clr. Linda Asman and Nathen Amin.
()
Subscribe newsletter
Subscribe to our email and get updates right in your inbox.
Saturday was an important day for Pembroke: a public meeting was held in Pembroke Town Hall to launch the campaign for a statue of Henry VII.
The event, sponsored by Pembroke Town Council, was intended as a public consultation to invite discussion on the statue project and was organised by Pembroke and Monkton Local History Society, which also hosted a coffee morning for the occasion.
Proceedings were opened by Pembroke Mayor, Clr. Pauline Waters, who highlighted the importance of a Henry VII statue in promoting Pembroke as the birthplace of the Tudor dynasty. She thanked all those present for attending and for the support not only of the town council which has commissioned the maquette, a miniature of the intended eight-foot high statue, but also of the county council which has agreed to match fund it as part of their town centre support programme.
A presentation was then given by Linda Asman, chairman of the Local History Society. Linda explained that a committee of town councillors have been in discussion with sculptor Harriet Addyman who, unfortunately, was unable to attend through illness, but had produced a preliminary sculpture of Henry VII in order to invite discussion and comments.
The presentation, and accompanying exhibition, looked at ways in which Henry VII has been portrayed both in sculpture and in paintings: fortunately, we have a good likeness of Henry in the bust by Pietro Torrigiano in the Victoria and Albert Museum, which was taken from his death mask.
The displayed model has taken traditional representations of Henry into account and depicts Henry Tudor in full length robes and familiar Tudor black cap. A rather nice touch is the greyhound sitting at his side: not only is the white greyhound the emblem of the Earldom of Richmond, it also reflects the old Pembroke tradition of keeping greyhounds and greyhound racing in the White City!
It was felt that Henry should be portrayed thus; as a statesman and man of peace, not a warrior, and would thus be instantly recognisable. It was felt, too, that his statue should stand proud on the Mill Bridge set against the magnificent backdrop of Pembroke Castle where he was born.
Also present was Nathen Amin, who had travelled all the way from York to attend. Nathen, who runs the Henry VII Society website, had made a previous attempt to get a Henry VII statue in Pembroke and had organised a petition to the Wales Assembly. Author of 'Tudor Wales' (a guide to the many sites in Wales associated with the Tudors), Nathen was delighted to support our campaign.
No less than three Tudor authors were present at the event. Also welcomed were Tony Riches and Terry Breverton. For this was also an occasion to meet author Terry Breverton who is an authority on the Tudors and an award-winning author of 50 books, his latest being 'Jasper Tudor: Dynasty Maker.'
Introduced by George Lewis, president of the history society, Terry then addressed the audience with a talk entitled 'Jasper and Henry VII in Pembroke - birth of the Tudor Dynasty.' Terry is a great advocate of Henry Tudor whom he believes to be our greatest king: a king who, after a life full of difficulties and dangers, was able to bequeath to his son, Henry VIII, a wealthy and secure kingdom at peace.
The talk was well-received and the audience were then able to take advantage of the discounted books available for sale. For those who were unable to attend the event, the model will continue to be displayed in Pembroke Town Hall for public viewing. Comments will be welcomed.
Comments
To leave a comment you need to create an account. |
All comments 0