A fond farewell to editor Neil after almost fifty years at the Observer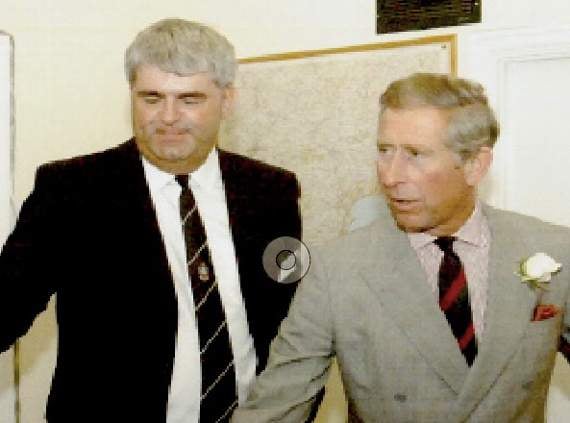 Royal approval: Neil Dickinson gives Prince Charles a guided tour of The Observer offices.
Subscribe newsletter
Subscribe to our email and get updates right in your inbox.
This week sees Neil Dickinson closing his notebook on a career which has seen him reporting on the highs and lows of communities in and around Tenby for almost 50 years.
A familiar face in the area, almost as well known for his prowess on the golf course as for his skills as an editor, Neil hails from a well established local family, being the youngest son of the late Tenby butcher, Ronald Dickinson and his wife Olwen.
He was educated at the town's Heywood Lane Infants School, Tenby County Primary School and Greenhill School.
On leaving school in 1972 Neil joined the Observer as a junior reporter going to to be become chief reporter in 1978.
Later he became the paper's assistant editor before being appointed editor in 1989 on the retirement of Arthur Ormond MBE.
On taking over the 'lonely chair' - as it has sometimes been described - he remarked " I will do my utmost to maintain the great tradition of the Observer as a true local newspaper and will make every effort to achieve the high standards set by my predecessors. If I can do that I will be more than delighted."
Over the years Neil has certainly achieved his aim admirably with the Observer continuing to flourish as the voice of the community.
Neil is married to Alison and has two daughters who are both at Greenhill School. He also has two brothers, Anthony who lives in Australia and is well know for his return visits to Tenby with the Australian Welsh Male Choir and Brent who lives in Essex.
Neil has a keen interest in all sports and is an active member of Tenby Golf Club, being a past Divots and Rabbits champion.
He is also a member of Tenby Bowling Club and his weekends are now taken up by chauffering his daughter around the country to take part in bowls tournaments.
Paying tribute to Neil, new Tenby Observer editor Liz Davies said, "I am acutely aware in taking over from Neil, that I have incredibly big shoes to fill.
"It only takes a look at the amazing tributes which have been paid to him in the paper this week to know that he absolutely epitomises everything that the editor of a local newspaper should be.
" I remember first meeting Neil a very long time ago at meeting at my former paper in Abergavenny and commenting to a colleague afterwards, that he probably had the best job in local newspapers - little did I know at that time that I would one day be moving into his office," said Liz
"This month Tindle Newspapers has launched a campaign highlighting the important role played by the local press in helping to keep our communities together - work which Neil and the brilliant team at Tenby have done with professionalism and integrity. I only hope that I can draw from his example and continue to build on his legacy of ensuring that The Observer is a community newspaper led by, and serving its community.
"I'm not from Tenby - and I know that my home town of Abergavenny is a sworn rival when it comes to floral displays - but I'm looking forward to putting gardening competition aside and meeting the groups and individuals which make this such a vibrant community...and maybe finding even a few hours to allow Neil to thoroughly humiliate me on the golf course," said Liz.
Comments
To leave a comment you need to create an account. |
All comments 0